Both Marci Ien and Diane Lee Clemons are fixtures in Toronto's social circles, for different reasons. Clemons is a popular singer and host of The Sweet Spot on Joy 1250; philanthropist and motivational speaker who is married to one of Canada's most beloved former athletes, Michael "Pinball" Clemons. Ien has been bringing the news to Canadians for 25 years. She was a co-anchor on CTV's Canada AM for 13 years and now is a host on CTV's The Social. Her career awards are impressive.
But, Marci and Diane also give women everywhere, serious fashion goals. They are impeccably styled, especially in the shoe department, so it's no surprise the two long-time friends have teamed up to create a luxury lifestyle brand, starting with footwear.
So, tell me... what led to this point? How did the conversation get started between the two of you about this business idea?
Diane: "People are always coming up to me and asking where I got my dress, or my shoes and my family and friends are always telling me I should do something in fashion. But I thought… what do I know about fashion? But then 2 years ago, I decided that was my year to say 'yes'. It was time to step out of my comfort zone. If a door is opened, I will walk through it. But I was scared. You know, my husband being who he is, people expect success. And boy, I was afraid to fail. But Michael told me, 'stop being a perfectionist! You will never know if you can do this, if you don't try.' Then Marci and I were at a party and I basically cornered her and said listen, 'I need a partner and it's gotta be you!'"
Marci: "I said yes! It just felt right and the timing was impeccable. Canada AM had just ended and my job was totally different. I could do this! Diane is like family and I've known her for 20 years. I trust her implicitly. Plus, we're both shoe addicts, I loved the idea!"
So, hold on a minute, how many shoes do you actually have?
Marci: "Ummm… (laughing) over 100."
Diane: "Oh boy… (laughing). If you asked me this last year the answer would be close to 200. But I purged a lot this year. I wanted to stop collecting 'stuff' and just focus on things that were more meaningful. I took a lot of my shoes to a shelter and decided to only buy the ones I really love."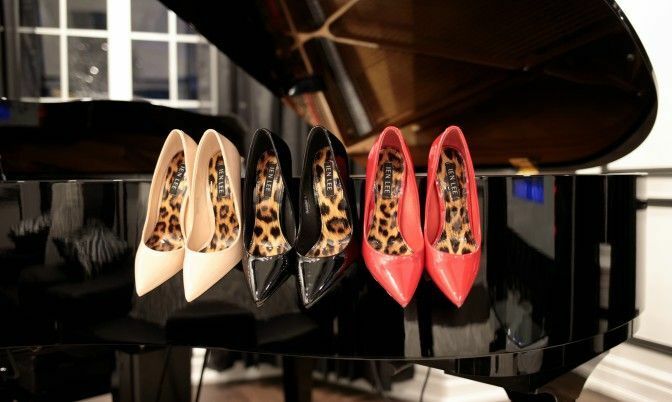 Were you both very involved in designing the shoes? What's that been like for you?
Diane: We've both been a part of the design process and it's been a great learning experience and an incredible journey. We hired one of the best in the business - George Sully, a Canadian shoe designer who brought our vision to life. Sully has shoes in over 650 stores globally including Town Shoes and the Bay - he recently designed footwear for the new Star Trek movie. He calls our Sahara Collection his 'love project.'
Marci: "He asked us to bring in our favourite shoes, and Diane brought in all these six-inch high heels and I brought in my favourite strappy shoes and Sully was like 'no… we need to start simple.' So, we scratched that, and started with a classic pump."
Diane: "But we put a twist on it, with the South African leopard print on the bottom of the shoe. I love that!"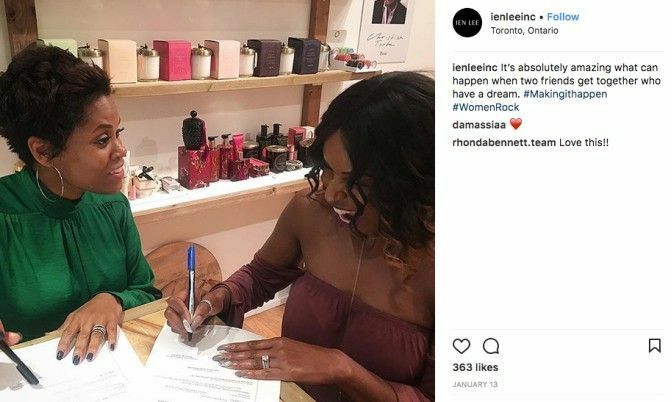 Marci: "Ok I'm embarrassed to admit this, but when we were brainstorming ideas for the brand name my first one was Soul Sistas. George was like 'hmmm no'. And then we realized, we each have 3 letters in our maiden names and it kind of just clicked - Ien Lee. And it's the kind of name we can put on anything, which we intend to do. This won't stop at shoes. We want to see Ien Lee on everything, from purses to perfume. Things we love."
With George Sully leading the design, this is an all-black team. Was that a conscious effort on your part?
Marci: "Someone said we may be making history as black women owning a Canadian footwear company. I'm not sure we are, but we take that seriously. We take legacy seriously. If this is possible for us, it's possible period and it's important to show that. I really want to make more of a conscious effort to think about what I'm putting on my body and who makes it. If I can support a black-owned business, I want to do that."
Diane: "When we realized we could be making history, we couldn't sleep that night! This is big! Our goal is to encourage more women, especially minority women to dream big!"
Marci: "I think Black people are now beginning to understand our fiscal power and frankly, our fiscal responsibility. I think we are starting to understand our power, the power of putting our finances in certain places. Our dollars matter and we have to think about where they go."
Ien Lee makes its official launch Thursday March 1 2018 with online sales at ienlee.com.
Follow @ienlee on Twitter for updates.