Sophie is a graphic designer and small business owner of Castlefield Design and Shop Castlefield, where she sells beautiful stationery and other products featuring her designs. She has an entire fashion line from bikinis to sweat suits emblazoned with her unique designs.
We reached out to Sophie to learn more about her businesses and how she got started.
When did you decide that you wanted to be a graphic designer, and what inspires you?
I always loved posters, flyers, business cards, and stationery and decided to study graphic design/visual communication when I went to the University of California, Davis. I was going to double major in fashion and graphic design, but I quickly learned that I don't have the patience to sew! I didn't actually graduate with a degree in graphic design (my BA is in German), but I started doing some design work for clients and had a few design positions at the University while I was still in school. When I moved to Toronto in 2009, I got my Masters in Fashion at Ryerson University, having studied branding in luxury fashion companies that were diversifying their product lines to include categories like home décor and beauty. I now design luxury graphics (branding for businesses and events, stationery, packaging, product graphics, etc.) for a variety of brands and individuals, many of them in the fashion, beauty, and wedding industries, but also some in industries like law, tech, sports, and finance.
People, especially wedding stationery clients, often ask me about the latest trends; I don't usually pay that much attention to or pull a lot of inspiration from trends because clients rarely come to me for "trendy" designs. As far as what does inspire me, a variety of things spark my imagination, like embroidered couture gowns on a fashion runway, the mood and texture of an oil painting, the fluidity of a ballet dancer, uniquely coloured patterns in birds' feathers, and ornate architectural details. (Suggestion: look up sometimes when walking around, there's a lot of beauty that people miss because they don't look up! It's probably safe to assume that my constant slowing to stare up at buildings makes me an annoying friend to walk around with, but that's the price you pay for befriending a creative.)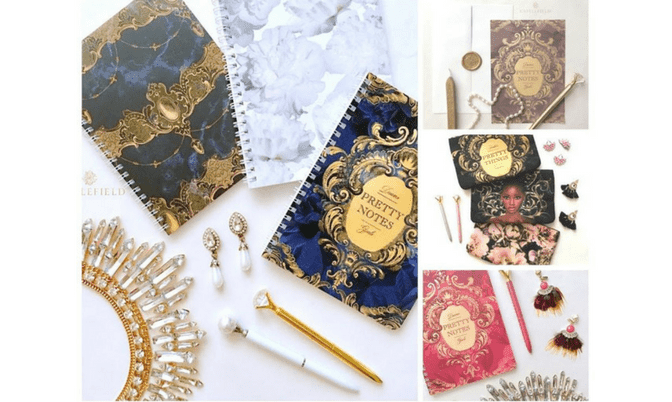 Did you have any hesitation about starting a business on your own? If yes, how did you overcome that fear?
I've been designing for almost 14 years now, freelance and in-house, but at some point about five years ago I thought that I was happy designing just as a hobby, and I settled into a job at a law firm, which I enjoyed (I also worked in law firms on and off for 10 years in California). After about a year and a half there, I realized that that was no longer the case and I started focusing on building my brand, Castlefield Design, thinking that I'd go full time in 3-5 years - whenever I was making enough to support myself. The decision to go full time was made for me when I lost that job in July 2015. While a complete surprise after receiving two raises that year, it was very much a welcome one, and I was excited to be able to focus on Castlefield full time. I needed that kick and I felt ready. I know that a lot of people experience impostor's syndrome, especially when they first step out on their own, but that's rarely been my experience. I only feel it when I have to tell other graphic designers that I don't have an actual degree in the field; no matter how good I know my work is, some people put so much value on degrees and are extremely judgmental if someone doesn't have one and it can be hard to ignore them.
It's been 2.5 years since the wonderful day I lost that job and I'm so thankful that I get to work with such amazing clients, from internationally known beauty brands to small businesses offering high-end products and services to people like the awesomely chic ladies of Fab Four Fashion!
(*Note Sophie created our lovely new logo and we couldn't be happier with the results)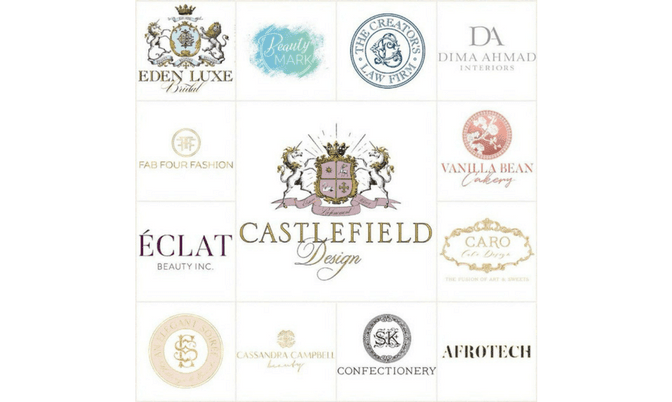 Do you take custom orders? If yes, walk us through the process.
Yes! A custom order can be one of my current designs on a product that isn't in my shop (for example, on binders or sneakers - just ask if there's something specific you're looking for) or a brand new design. I can also have one of my designs printed on fabric to be taken to your seamstress and transformed into a custom garment or accessory. To place a custom order, just send me an email at This email address is being protected from spambots. You need JavaScript enabled to view it. with as many details as possible, such as the type/style of design, which product(s) you'd like, timeline, and general budget range.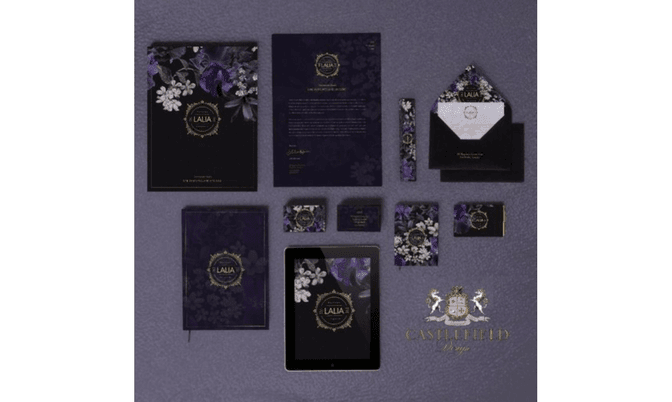 What is next for Sophie Taylor and Castlefield Designs?
What's next for me is focusing more on my shop and marketing my products! It can be hard to find the time when I'm usually working 14-16 hours a day on client projects, plus I'm the one who's creating all the designs and marketing graphics for my shop instead of hiring someone. I'm beyond excited that my products have been so well received and I, of course, want to get them in front of more people, so I have to make the time to properly market them with the time I have. I've also been wanting to sell digital products for a long time now, like printable planner graphics and greeting cards/invitations, as well as branding and social media templates for clients who want to start off on the right foot but don't have thousands of dollars to invest in a custom brand identity suite yet.
My want-to-do list is super long and constantly growing (it includes things like developing project management software, writing a children's book, and designing fun prints for hospital gowns) but two big goals at the top of my list are to get my products into tv shows or movies and to design fashion week and/or award show branding/invitations.
We have no doubt that Sophie will reach the top!