Leslie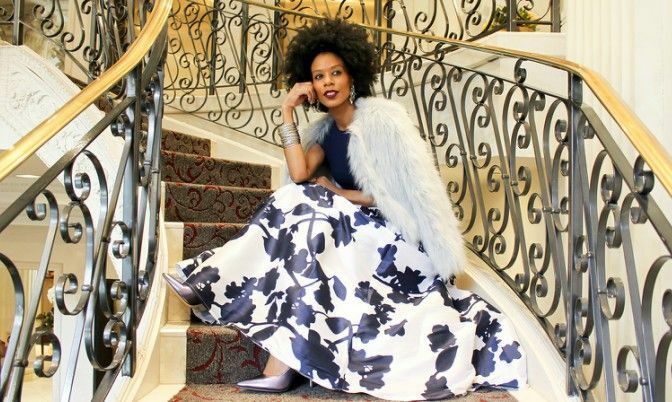 New year, new you boo! It's like a second chance to fix mistakes, try your hand at something different and take on challenges that seemed impossible the previous year!
I always consider my birthday (Nov. 13th) to be the beginning of my "new year", and I consider January 1st to be my chance at a "do-over" if my "new year" did not quite start off the way I'd hoped – which it usually doesn't!
I'm not often one for making grand resolutions or decrees, but I do like to take the time to pinpoint what I want to focus on for the new year. And for 2018, I have a few areas that I would like to zero in on:
1. Travel Goals: I L-O-V-E to travel, but as I have partial eyesight, it can be a serious challenge. I have to confess that there is definitely a bit of fear, well maybe a lot of fear, at the idea of travelling alone, and I've often had to depend on others when it comes to travelling, which makes it a little tricky. Well, this year, I want to travel much more, finding ways to travel alone as well as with friends and see as much of the world as I can. I literally don't know if one day I will be fully blind, and I truly don't want to regret the time I wasted not living my dreams because of my fears.

2. Focused Fashion: I'm all for shopping on a budget, but quality is better than quantity. I want to focus my fashion purchases on pieces that I love, of great quality and uniqueness. I gotta admit, when doing an evaluation of my clothing arsenal, I realized that I don't really have any sexy going out clothes. I tend to shy away from really sexy pieces. I will shy away no more. I want some sexier pieces for 2018.

3. Family Ties: With the wonderful success of Fab Four Fashion, and mine and my fellow Fab Four sisters desire to build our brand, I have – I hate to say – neglected my friends and family to some extent. I want to, and need to change this. My friends and family are so very important to me, there aren't words to express how vital they are to me. And this year, I plan to actively try to spend more time with the people that mean the most to me. That also means more trips to Montreal to see my peoples and my fabulous auntie and Cousin Alicia!
Those are my areas of focus for 2018. Stick around and we'll see how well or poorly I've done by this time next year! Wishing you and your families all the best for 2018!
Nancy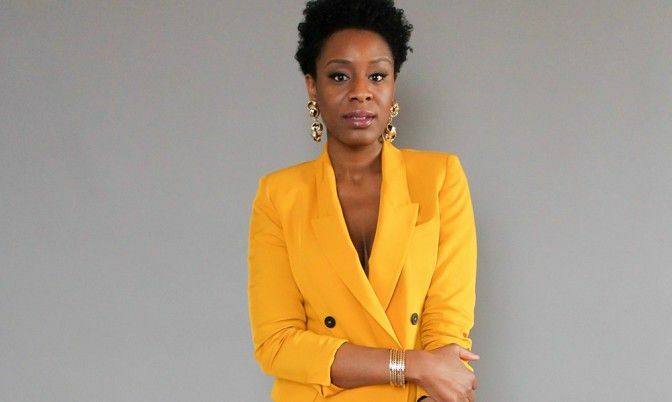 I have noticed that there is an anti resolution movement going on. People are talking about setting goals instead, as resolutions are often broken. After reflection, I figured that what was best for me was to look at the theme that I wanted for myself for 2018. The one word that kept on popping up in my head is simplicity. My 2017 was quite the eventful year. I was pregnant for most of the year and on and off planes more times than I can count. I will be fortunate enough to be able to take twelve months for my maternity leave and will be looking forward to spending time with my family. I am planning on planning, recalibrating and achieving many of the plans that I have pushed on the back burner.
Back to my theme for 2018. I know that the word "simplicity" doesn't usually go with "newborn" but I'm prepared to challenge that. For me simplicity isn't boring or stale but I will take this year as an opportunity to declutter or "uncomplicate" my life.
First, this will mean for me to get closer to God. As I was reflecting on what 2018 would look like, I came across this verse: "Trust in the Lord with all your heart and lean not on your own understanding; in all your ways submit to Him, and He will make your paths straight" (Prov 3: 5-6). This passage particularly spoke to me - and solidified my 2018 theme - as I tend to look at things in a million and twenty two ways before making a decision. As a result, I often torture myself with the endless 'what if' scenarios or I simply give up on the idea without pursuing it. For this year, I plan on keeping things simple and relying on what God speaks into my heart.
Concretely, it means that, for example, I will plan to nurture the relationships that matter to me the most. In this case, simplicity would mean that I do not have to plan the most elaborate date night but it could simply be one on one at a nearby cafe. It means that I will take care of myself in whatever ways take make me the happiest - whether that means grabbing a good book or doing a little working out every now and then (emphasis on little).
I also plan on applying simplicity in all areas of my life. From the way that I eat to the way that I dress. This also means that I will be more gentle and patient with myself and understand that things do not need to be perfect. It means that I will trust myself more and just go for it. It means going back to what matters most and being prepared to listen and observe more. Don't get me wrong, this does not mean that I will be a vegetable and do nothing! Far from it! I plan on living my best life but just minus the agony of complications.
Gail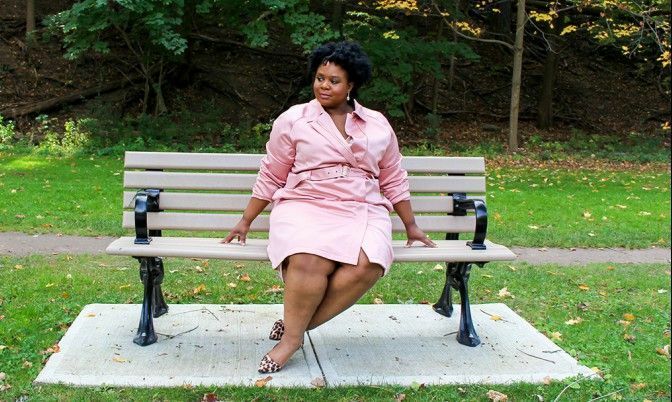 A brand new year is here and it's another glorious opportunity to plot and achieve new goals and aspirations! I, for one, look forward to pushing myself past my comfort zones. After all, that's where one really learns what they're made of.

2017 had two huge firsts for me and the ladies of Fab Four Fashion. We had our first speaking engagement last July for BeautyMark and I had the distinct pleasure of addressing the audience at the Black Beauty Brunch in August of 2017. Both of those events had me quaking in my pumps! In both instances we had an opportunity to address how important representation in mainstream media matters to black women and girls. And for me personally, I talked about my own ongoing journey of self love. I look forward to doing more of the same through our blog. Continuing to show plus size women that you have the right to feel good about yourself and wear whatever the hell you want!


Judy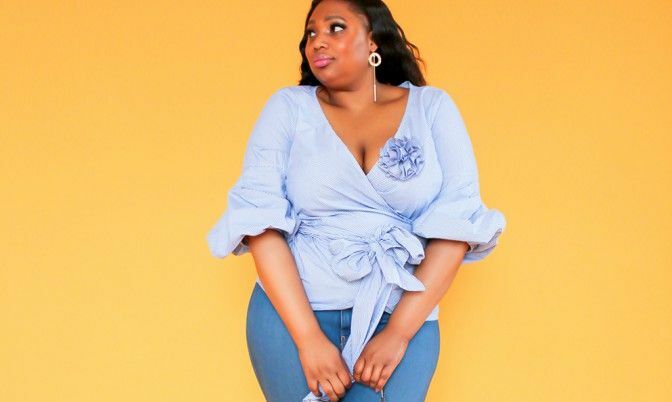 For me this year I told myself no resolutions, only goals. I will work hard in 2018 to reach the goals I set for myself. This year is about me and what makes Judy happy. I'm putting myself first. No more leaving myself behind to accommodate anybody else. No more feeling empty and upset because I haven't accomplished what I set for myself previously.
This year I'm diving head first more into my first passion which is food. I have so many creative ideas for my food venture that I want to see come to life. I have always struggled with a healthy diet and balance lifestyle. As I get older and my metabolism is changing, I'm ready to find what's best for me and adopt it.
I'm also planning to take more fashion risks and explore my fashion sense and have fun with it and see where this journey will take my curvy self.
One of my priorities this year is to take a few trips. I'm planning on going different places to recharge, relax, enjoy myself, live in the moment and disconnect a little bit. I really need this. Last year I didn't take a trip and by the end of the year I was extremely burned out.
I know time waits for no one, so no wasting time thinking should, could or would. So I'm working on putting myself more out there and trying new things and adventures. I want to get out of my comfort zone and see what comes my way. No more anxiety about why I am not where I want to be in life or where I think I am supposed to be. No more looking at what my neighbors are doing but more focusing on me and how I can become a better version of myself.