Walker, on-screen siblings Bern Nadette Stanis (Thelma) and Ralph Carter (Michael) along with John Amos (James Evans) and Ja'net Dubois (Willona Woods) as the neighbor with the daily dose of humor and love have heard the wishes of countless numbers of fans. And they have decided to grant them. The first Black television family has launched a Kickstarter campaign to produce The Original Good Times Cast Movie for the big screen. And according to Stanis who was television's "it" girl before there even was a term, this is the perfect time to continue the Evans family story 40 years later.
"This film is an updated version of who we are now and how their lives have progressed," says Stanis. "The fans were missing us and asked where did they end up?" Some early hints of what a reunion movie would bring: Thelma will have three children—one who strongly resembles J.J., the story will honor the memory of Thelma's husband Keith, due to the passing of actor Ben Powers just last year as well as pay tribute to the remarkable Ester Rolle. And, through a storyline with which probably very few were prepared, James returns from the dead!
For the screenplay, Stanis says there will be new writers as well as an open invitation for Eric Monte ("Cooley High," "What's Happening!!") to return. Monte co-created the show with Michael Evans ("Lionel" on "The Jeffersons") who is now deceased. The adventures of a good family placed in the heart of an urban ghetto was based on Monte's years growing up in Chicago's Cabrini-Green housing project.
During its five-year run from 1974 – 1979 not only were the "Good Times" family values on display, but also 1970s fashion through the wardrobe decisions made by Stanis and the show's wardrobe mistress Adella Farmar. "Being a dancer I always wore my clothes tight," says Stanis. "And when I got to set, the clothes wouldn't fit me right. The waist was too big. The pant legs were big on the side…The hips were too wide. I got together with the wardrobe lady Adella Farmar and she and I created that Thelma look. That fashion. Pinning the clothes down right on my body so they fit me like a glove." Stanis also claims the jeans she wore may have appeared to be stretchy jeans but indeed were regular jeans fabric, sewn to her proportions. Fans would tell Stanis, "You don't know what it meant to me. I dressed like you. I wore my hair like you. You showed us how to be a lady…You weren't naked. And you're a brown girl. We loved it. You were nice, smart."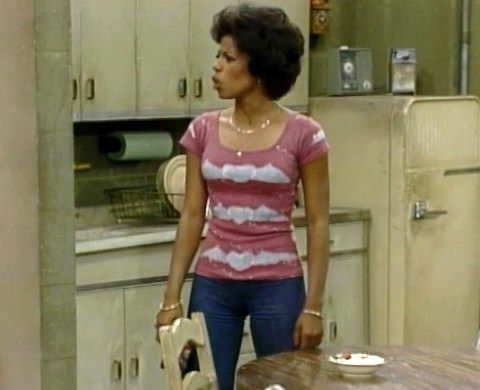 The reaction to her confidence, feistiness and optimism along with the relatable qualities of her fellow castmates had eluded the cast because they would receive fan mail through the studios, nothing like the public contact they receive today. When asked if she knew she was a popular "crush" for so many men she says, "I never knew. I never knew the impact I would have on the guys. And I didn't realize the impact until I toured with my books. They say, 'You're my first girlfriend. Since I was 12 years old, you were my first girlfriend.'(laughs)."
The proposed reunion movie reportedly sets up a return to Chicago of Evans family members who have gone on to live their lives. Some characters have passed on, and others have thrived. And even though Rolle will only be there in spirit, the cast will be sure to follow her lead in sharing life lessons and keeping the Evans family as one to emulate.
Rolle was largely responsible for why "Good Times" is the television family that history will always remember. Its origins lie in the fact that Lear wanted a spinoff for the Florida character of another of his 1970s shows, Maude where Florida played a maid. "Good Times" made its debut February 1974 as a mid-season replacement. Yet it is well documented and Stanis confirms that even though Rolle's character was married on Maude, "Good Times" producers and writing staff constantly wanted to keep the idea of a married mother of three out of the picture completely. Stanis shares, "It was Esther Rolle who said, 'I'm not going to be a single mom. Only way I'm going to do this show is if I have a husband.'
Los Angeles-based multimedia journalist Xavier Higgs—and Rolle's second cousin—recalls how well-respected Rolle was on the screen and off. Higgs, who had lunch plans with Rolle the day she passed away, says, "As I remember, at our family reunions in Miami she was among the senior citizens who huddled with their alcoholic beverages laughing and joking. There was never any fanfare, she just blended in." Rolle passed away November 17, 1998. "During the memorial service in LA, John Amos, Bern Nadette Stanis and Ralph Carter stood on stage hand-in-hand in remembrance of their friend and colleague. It should be noted that they were disappointed in Jimmie Walker for not showing up to pay his respect," says Higgs. "The three of them recalled how Esther was the voice of reason as well as their counselor. On many occasions during rehearsals if they were uncomfortable about a scene, dialogue or situation they could always go to Esther. Who would in turn approach the writers or Norman Lear."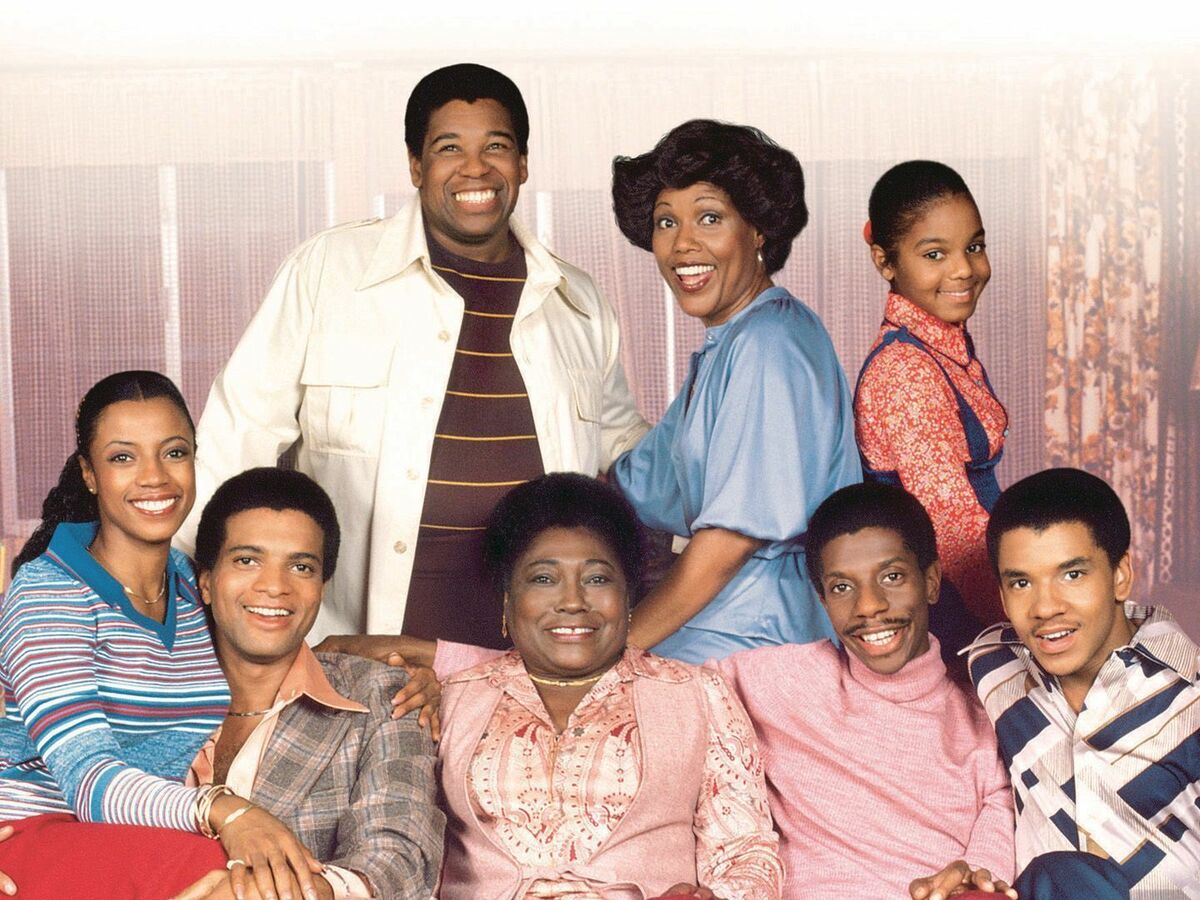 Those creative battles ran deep and often with the portrayal of Walker's character "J.J." Stanis says Rolle "never wanted him [Jimmie Walker] to portray himself as a foolish person. When they would write certain things, it would get silly and we would understand why it would get silly because a lot of families—including my own family--have certain children who were the ones who made the family laugh. They would cheer the parents up by doing something silly. We accepted that and she said always have a moral to it. If something got serious, J.J. was to say something there as well. Esther said he was never to be portrayed as a fool."
Hearing Stanis talk about her love for her on-screen brothers and parents brings to mind the time the family and millions in the television audience had to say goodbye to Amos' character James Evans. His death is probably one of the most memorable episodes in television history. Stanis remembers the event quite clearly: "We went to a table read. No one said a word. James wasn't there and we started to read and then we got to the middle of it, and still Michael and Thelma did not know anything about this. So we're reading and we thought it was a case of mistaken identity when we read he had died. They said, 'No he's dead. No, he's no longer on this show.' So we learned then, and it was such a shock to me. I was literally hurt the whole week and I was really crying. That was a sad show."
Stanis says her father in her real life always stated that "Good Times" was the original reality TV show. "Because it was so real to so many people. So real to Black people," she says. "It was so real to poor people. It was so real to foreigners who came to the United States and they learned who we were. They found out Black people were just like everybody else when they had problems."
Fans can remember the "Good Times" along with "Thelma" as she is conducting daily lunchtime phone calls during the remainder of the cast's Kickstarter campaign.
As Hollywood's lack of diversity now takes the spotlight, creators of color are now more empowered after more than a century of feeling insignificant in the process. Stanis and the cast feel this renewed energy is the perfect setting for their endeavor. "This is a film that we are putting together. We are responsible for it," Stanis says. And she knows the fans will have carried them through. "Fans would say, "We just feel it's incomplete, what happened? That's our family."