This February, at the 9th annual 2021 Toronto Black Film Festival (TBFF), Ryan Singh will debut two of his latest COVID 19-era projects to an international audience. A narrative short starring King Dillon titled Essence, and the Sci-Fi short film HENRI starring Singh and his twin children — a project in which Singh is credited as an actor, producer, and scriptwriter.
Henri follows young Simon (performed by Sebastian Singh) and his family as he turns to artificial intelligence technology in an attempt to cope with the loss of his father. Also featured in the film are Ryan, Ava Singh as Simon's sister, and Andrea Grant as the children's mother. Determined to carve out a path of success for his children, Singh welcomes his seven-year-old son and daughter, Ava and Sebastian, into his work life as a film industry professional, allowing them to develop their creative talents in real-time. The direction of Katarzyna Kochany, a Polish-Canadian filmmaker who has worked on quite a few BIPOC-based projects, is an expression of Canada's diverse melting pot of influences coming together to celebrate our cultures through the arts. To discuss the details in an interview with ByBlacks, Katarzyna Kochany dials in with Ryan Singh and his twin children, Sebastian and Ava, who also co-wrote as well as acted in HENRI.
This year's Toronto Black Film Festival is coping with the times by offering a fully online-accessible event featuring a record number of 154 films from 25 different countries. The festivities will also include free panel discussions and masterclasses, as well as virtual live performances from Steel and the Hardcore Reggae Band, Kobèna Aquaa-Harrison, and a few more of Canada's most influential Black voices.
Is this your first time entering any projects at the TBFF?
Ryan: No, I've worked on different projects in different capacities [that have] played at the Toronto Black Film Festival before. But this is the first one that, as a creator, I'm including in TBFF, and I'm excited about it.
Katarzyna: We had a documentary film called Journey Back To Jackson Park that played at TBFF. The one I did with Ryan was a scripted narrative. Journey Back To Jackson Park is about the history of slavery in Canada and how it's affected society as it is today. It's a very interesting project — there's an educational component to it and there's a TV series that's in development related to it. There was a presentation at the Royal Ontario Museum… so that was another project I've had at the TBFF.
Ryan: Jackson Park was a pilgrimage in the St. Catherines and Windsor, Ontario area. People from all across North America would gather there to celebrate the Underground Railroad. A lot of people were in that area when they came through the Underground Railroad in that area, and that's where the settlements were.
Katarzyna: The coolest thing about it was that it was known as the 'Greatest Freedom Show on Earth.' So as Ryan mentioned, it was about celebrating freedom and was for everybody. It didn't matter what colour you were. It was just this huge celebration of freedom.
Is there anything you can tell me about the TBFF, its significance, and what it means to you personally?
Ryan: Well, the TBFF started in Toronto about nine years ago, but it's an offspring of a larger festival, the Montreal Black Film Festival. The co-creator, Fabienne Colas, who is from Haiti, realized as an actress that she didn't have a platform or an opportunity. She wanted to create opportunities to celebrate works from Black filmmakers so she created the MBFF. Nine years ago, in partnership with their media sponsor Global Television, they brought it to Toronto. It's been a fabulous exhibition of Black voices across Canada and the world, but more importantly, from Toronto filmmakers. They brought Spike Lee to Toronto last year and have done a lot of promotions of big talents. They celebrate Black talent everywhere.
Katarzyna: It's one of my favourite festivals — I've gone even when I didn't have projects. It's always a very classy affair. The audiences are wonderful. It's a rare kind of festival that celebrates filmmakers but is very accessible to the average person. Usually, they have screenings at Carlton Cinema…but this year they can't because of Covid.
A lot of people say you shouldn't mix business and family. What incited you to challenge that theory?
Ryan: Well, it's all about empowerment. If we don't empower our children and give them a voice, we don't have the excuse [to say] we can't see them on TV. We know how barren Canadian television is when it comes to diversity. When the kids are looking at television they're often looking at characters and responding like, 'look, mom, hey dad, that's you! They're putting themselves in the characters. I put a lot of effort into making sure that they go out there, audition, and are in the room. Oftentimes people say they can't find Black actors, or there isn't a Black actor that can do the work, and now we're seeing that it's just a myth. It's just that people have been lazy, and I don't wanna be lazy in teaching my children how to create the work that they need to see themselves in.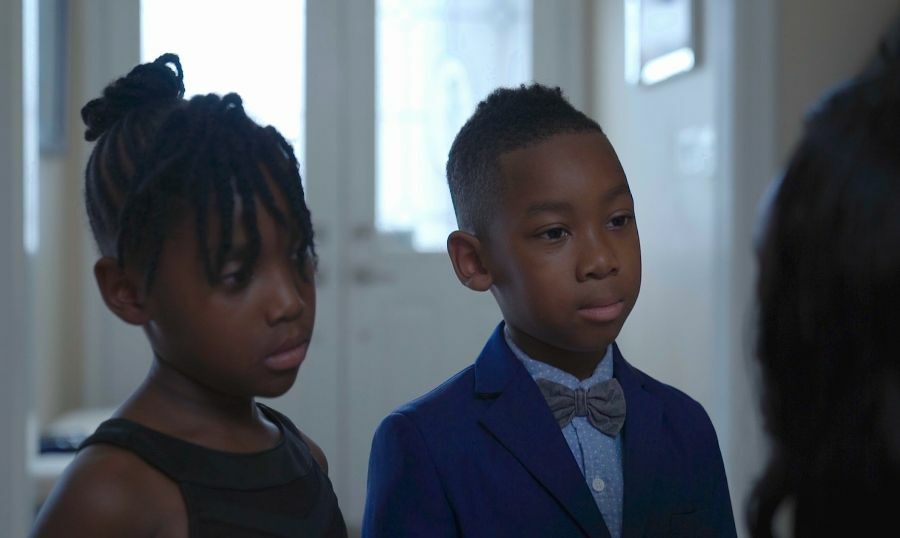 Ava and Sebastian Singh (Film still from H.E.N.R.I 2021)
How have you been able to keep afloat in the film industry during the Covid lockdowns?
Katarzyna: Well it's definitely a challenge for the creative community all over the world, including Canada. I know a lot of artists with projects that they hoped to get going but they can't because of Covid. I certainly had some projects and opportunities that had to be delayed because of that, but you've just gotta keep going. I think the most important thing is you have to keep your creativity going. So do whatever you can and focus on what you can do. I think that's what's great about this project. We have all supported each other, fed off each other creatively, and we had a great, fantastic cast. Ava and Sebastian were in it, and Andrea Grant, who is not on the call with us today, but she's a fantastic actress and she was also one of the producers. We had an amazing visual effects team who contributed throughout the pandemic. Everybody brought something to it. I'm just really proud of it and I feel very nurtured as an artist. Doing things like this has been a huge part of getting through 2020.
Ryan: Amazingly, even though this was a seven-minute film, it took us nine months to complete because we were working with so many different departments. We wanted to make sure that, even though it was such a small project, we did it in an industry-standard kind of way. We had pictures, colour, sound, music composition, and three different companies doing VFX (Visual effects) for us. We had the person who conceptualized the VFX. We had collaborated with another person [for whom] this was their first short film… I think it was Colin Walcott. Caitlyn Salmon came on and she brought the project to another level. Then our people from India, Akash Singh, completed the VFX component. That was a large undertaking.
Was science-fiction a long time interest for you cinematically?
Katarzyna: I love science-fiction. There's an element of magic to it and you can tell stories that are not only entertaining but are also a metaphor for a lot of real life saying the things that people might not be willing to hear if you were to say it directly. There's a saying; if you want people to listen, you make them laugh, and when their mouths are open you pour in truth. I think it applies to doing stories that are in fantasy or science fiction. I think that's why the genre is so popular. I would love to do more science-fiction! I love working with visual effects and everything you can plan. You can create this whole other world. It's exciting and fun.
Ryan: I enjoyed it as well. I do a lot of technical work in the field, working in major Hollywood films and so on. Many times, as a creator, storyteller and a filmmaker, we're not able to share those stories because they're wrapped up in privacy and non-disclosure agreements. So being able to make something small like this in a collaborative environment, we're able to share this work and showcase each other's talent. That's what's special about this project; we were able to ask ourselves what we wanted to do, how we imagined ourselves doing that and work towards really achieving those things that we imagined.
Like any other Caribbean community, Guyanese folks are an entertaining crowd to see. Do you think the Guyanese customs can (or already do) add to the media space? How?
Ryan: Well, absolutely, but it's not just Guyanese. I think every culture in the world has unique nuances about them and the opportunity to be able to create stories that share our folklore while celebrating our customs and languages. The way we say things, you know? Fried bakes as opposed to dumplings. Chicken curry as opposed to curry chicken. It's little nuances like that help to humanize a culture and open it up for tolerance. Otherwise, we have people who don't understand the Caribbean culture and think about it in terms of some of Donald Trump's rhetoric. When we start to be the curators of our own stories we're able to debunk those myths and stereotypes to create a new language of tolerance. Working with Kat, that's one of those things that we were able to share and exchange. She was able to understand me from my ethnic background, but also from my Afro-Caribbean background. Her being a European person, we were able to find commonalities; the idea of being immigrants and trying to find a voice in this filmmaking world.
How do you feel about using Alexa, Siri and Google Home products, especially with all the talk recently on privacy concerns? Is HENRI a reflection of your views?
Ryan: When I wrote HENRI I wanted to write it from a very personal point of view. Aside from things I've seen and read, I didn't go deep into a lot of research in creating the film. Now that we've finished it, there's actually an online A.I. called Sophia, and you can watch people have interviews with this artificially intelligent being they've created. It's wonderful to see that the themes we tackle in this film are the same as what we're dealing with in reality. This whole world of artificial intelligence, privacy, and all that, it's just gonna become something that we're not going to worry about anymore because we'll be inundated with devices. There's a day coming when our privacy will not be protected. As small as this project is, I want to expand it into a larger, 30-minute television series exploring some of these themes because it's all around us. It's relevant and it's now.
Katarzyna: We didn't know about Sophia when we made the film. Initially, we named them Simon and Simone. It was actually Ava who kept saying 'Sophie.' So when Ryan found this information about Sophia we all had this double-take. Ava had no way of knowing that. When we were writing this, I think she was like six years old. She kind of had this… I don't know, maybe it was something in the ether she picked up. It's one of those interesting coincidences.
Can you speak to the importance of independent film, especially now in the Information Age, and what it can do for the Black community?
Ryan: I'll let Kat take the first stab at this because recently Kat has made at least three films with people in the BIPOC communities — I think one SciFI, one documentary, and another human interest story…
Katarzyna: I feel like there are two parts to this question. As far as independent films and how they can empower filmmakers in general, the fact that we all have smartphones nowadays and you can make your film on a smartphone is definitely empowering. As far as what it means to the Black community, I think it was Ryan that pointed out I've made several films with BIPOC creators. I was just looking for people to collaborate with and I met a lot of really interesting people that had compelling stories to tell. Ryan was one of them.
Ryan: I think we are in a very interesting time right now. I look at my children, and they're taking our cell phones and making some really amazing TikTok videos that are very sci-fi, stop motion videography. They'll do an action and go somewhere else to complete that action, just by pressing pause on the cell phone. Then they have a completed zap teleportation kind of action happening. At such a young age they already understand that technology. We all have that studio in our hands! There are tools and mechanisms we all have access to, like YouTube or Vimeo, for learning how to write and create a story. We have free access to *DaVinci Resolve, allowing us to edit those stories when we capture them. You're seeing great studios coming out of that. Social media influencers are earning big money by using the technology available to them and honing in on a specific subject. So, as creators of colour, being able to take your story, your narrative, and share it, is an important aspect. We have thousands of channels now. YouTube has millions of different arenas that you want to share your content on and there's so much content to be created. We just have to do it. That's what we've done with HENRI. We went out and created a short film hoping that the world would be able to see it while we continue to create more content.
Is there anything else you'd like to add?
Ryan: Ava wants to say something...
Ava: Have a great day and I hope you stay safe!
H.E.N.R.I.: Life Is In The Machine (Official Teaser)
The Toronto Black Film Festival (TBBF) 2021 will be broadcast online from February 10-21st — right in the heart of Black History Month. Visit https://torontoblackfilm.com for online tickets and streaming information.
Author's Notes:
*DaVinci Resolve is a colour correction and non-linear video editing application for macOS, Windows, and Linux.