After overcoming challenges and obstacles common to many Black business hopefuls—bullying in her teen years, deep depression in her 20's, doubters, nay-sayers, and the pressures and expectations of society to bend to impersonal and unfulfilling ideas of success—Pauleanna has penned her way to becoming a millennial mogul and role model with WritersBlok, a celebrity ghostwriting agency featuring a team of content creators who are all Black women/women of colour and mentoring over 200 women in 11 different countries.
Pauleanna's career as an entrepreneur began, once she decided to leave a conventional, overly-systemized life behind after two failed suicide attempts during her college years, which Pauleanna credits as giving her the freedom to map out and shape her future.
"The problem is when you're little, you dream in full colour and then when you go to high school, they box you in and dictate what paths you can take, and a lot of young people get stuck in this gray area. My mental health started to fall once I realized that all the adults in my world—teachers, counsellors, parents, family—didn't really hold up to their end of the bargain; they believed in me, but, kinda not really, you know? And that's when the dream that I had for myself slowly started to crumble. It wasn't until after college that I built that back up again."
Pauleanna's work as a ghostwriter illustrates her mission, which is to inspire those she comes into contact with to transcend their circumstances and use their voices to push forward. "Words are powerful, whether written or verbal," she says. "Use them carefully. Understand that your voice matters, and celebrity or not, you also have influence."
An advocate for improving mental health in the community, Pauleanna has been leading the way and inspiring millennial women to take a firm hold on their professional and personal lives simultaneously, emphasizing what she calls "work-life integration" as part of her strategy for success.
"We're going through a mental health crisis right now in the world. There are many people who feel misunderstood, who feel othered, and I think that it prevents them from reaching higher, from reaching further, from asking questions, from seeking help, seeking resources," she says.
To combat this epidemic of mental health struggles, Pauleanna uses her own professional platforms and social media to reach out to her audience, making it a point to stay sincere and transparent about her journey.
Her bestselling novel, Everything I Couldn't Tell My Mother opened the doors of transparent communication. "I've normalized a conversation with my audience," she says. "I like to come forward and speak on issues and break down pop culture moments that relate to women of colour and Black women. Because I've been talking about this for so long, I don't get embarrassed, I'm not shameful, I don't think it's going to hurt my career. If anything, it has helped build community, it has helped build loyalty, and it has helped build trust."
BB: Can you give a quick rundown of your business identity?
PR: I am the founder of the WritersBlok, which is a ghostwriting agency, and I lead a team of content ninjas—10 women of colour who are the confidants and human diaries to some of the world's greatest leaders. Essentially what we do is turn personal stories into brand assets. I also run New Girl On The Block, a mentorship program that turns distant dreams into noteworthy achievements. I've mentored over 200 women in 11 countries. I'm very passionate about mentorship, pouring into other people. I love keeping an ear to the ground to understand what young people are doing and how I can better serve them. I've had people invest in me. I am also a guest lecturer at colleges and universities, where I teach business communications and entrepreneurship. And I'm a public speaker—I speak around the world on various subject matters related to business and entrepreneurship. And I'm a journalist—that's how I started. I do see myself phasing out of journalism in the next few years, but I'm currently a senior contributor at ForbesWomen and a freelance reporter at Business Insider.
BB: Do you prioritize working with and mentoring others in the Black community?
PR: My agency is all women of colour, and that's on purpose. And it will stay that way. I think that when you have a Black woman/woman of colour who sits at the table in decision-making positions, that's when sh*t really gets done. Oftentimes, because we are an agency of colour, Black-owned, people see themselves in us, so we attract Black clients. And it is a priority. We deserve the same amount of attention, care and nurturing, advice, and strategy as our white counterparts. My team is the best at what we do, we're one of a kind; I don't think there's any other agency like us. Where this passion came from is from my life as a journalist. If you look at my ForbesWomen column, I prioritize and amplify Black voices because Black voices oftentimes don't get to partake in conversations that matter in mainstream media. So I've highlighted several hundred profiles across my career, and I am damn proud of that. Because I contribute to a prestigious business publication, one of the top in the world, of course, I'm gonna open the door for Black women and Black voices.
BB: What has been the central idea of your career?
PR: My personal mission is to help people see beyond the limits of their circumstances. So, beyond client transactions, I want the people around me to be better than when they first entered my energy. I want the people around me to be able to exercise boundless creativity and dream bigger dreams. I want them to be able to contribute to conversations that matter, to feel empowered, to know that their voice matters. That's my personal mission statement, and it always will be.
I think the work that I do is important because there are people in positions of power who are abusing it. There are people in positions of power who are not using their influence and the responsibility they have to move the needle on certain causes and issues, and sometimes it's because they don't know what to say, don't know how to move forward. Sometimes it's because they don't have the range to participate in the conversation.
My job as a communications advisor is simply to decode their ideas, provide a safe space for them to express their deepest thoughts, and then strategize on how to deliver these thoughts while navigating cultural sensitivities, societal sensitivities, generational sensitivities, and helping the message land and resonate in a meaningful way to their audience. It's really about creating a legacy; it's about reputation management, it's about using your influence for the better.
With cancel culture on the rise, I do think that leaders are now prioritizing or placing more value on communications teams. What I do…my name is not in lights. I'm a servant leader; I'm in the background. I have a seat at the table because of my position, and I'm able to inform, inspire, educate, enlighten, and contribute to a communication strategy for a person of influence. But my job is really a back seat driver, and I kinda like that. You don't become a ghostwriter to be famous for recognition. Nobody even knows I exist on any of these teams. I've had the privilege to work with politicians, athletes, entertainers, founders, and celebrities, and it's been the greatest gift of my life to earn their trust and be in a position where people of influence trust me with their legacies.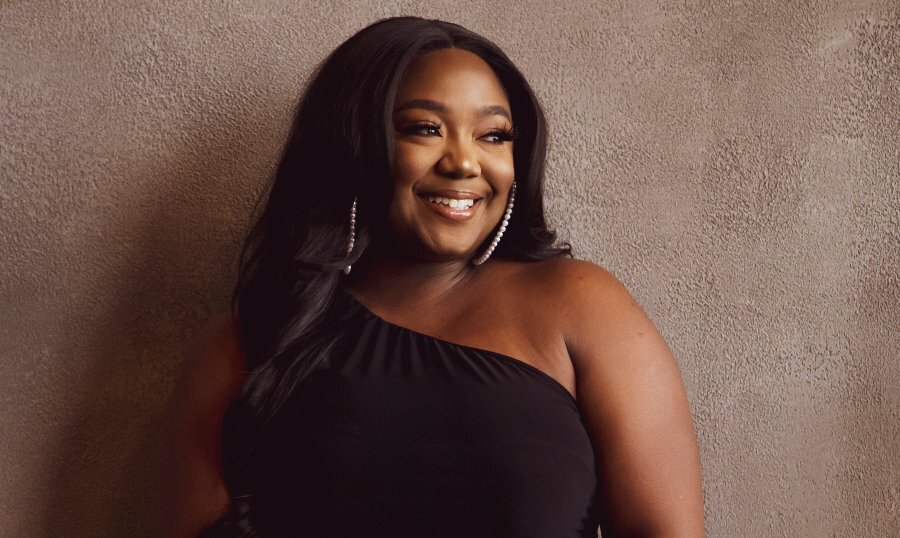 BB: What was your picture of success starting out? Was there something specific you wanted to shoot for?
PR: I always knew that I was meant to be someone important. I just didn't know how I was gonna get there or when it was gonna be my turn. I grew up in a household of thought leaders, professionals, pastors, and public speakers, so I definitely knew that my time was coming. But I didn't have the puzzle pieces or the strategy or the network or the confidence to pursue those goals until after college.
When I was in high school, I was bullied a lot, so I spent a lot of time by myself. I was very imaginative; I dreamed in full colour and I couldn't wait until high school was done. Those were the worst years of my life. I knew that there had to be a life beyond [those] four walls and I was really excited and anxious to figure out what that was.
I wanted to be a writer early on, I knew that from the jump. I didn't necessarily know what type of writing…the obvious would've been journalism. I had failed grade 11 and 12 English, so my guidance counsellor and parents were like 'how are you gonna make a living from writing? This literally doesn't make sense because, traditionally speaking, your grades don't even reflect that you're a great writer.' But I knew…for me it was like 'yo, why don't you give me time to work on it, to figure it out?' I wound up going to Sheridan college [for] a two-year diploma program in office administration…I dropped out on exam week of the second year for mental health reasons. My mental health was at stake; I was suicidal and severely depressed. I exhibited signs of depression, but again, people are in their own world, they just don't notice, and honestly, I didn't really raise my hand and tell anybody until I told my doctor in 2010. Once I got the help that I needed from my doctor, I began to repair my life again.
BB: Do you think that the obstacles you've had to overcome are common to young Black women?
PR: I think it's common to women, period, to young people, period. We're going through a mental health crisis right now in the world. There are many people who feel misunderstood, who feel othered, and I think that it prevents them from reaching higher, from reaching further, from asking questions, from seeking help, and seeking resources.
Mental illness is not like a broken leg, it's not something you can see. I think a lot of people are just kind of on autopilot and just doing what they need to do because they have to get by and put food on the table. They have to take care of their children.
But I do think a lot of people's mental health is at risk because since the pandemic we just don't typically have those outlets. I think young people today still go through it: you go through high school and college thinking life is gonna be one way, but I don't think it equips you for reality, especially when you want to pursue your dreams. I think the traditional school system or the adults in our lives teach us that personal fulfilment and professional achievement cannot coexist together and that they're not mutually exclusive. I'm under the belief that you can find purpose in the work that you do. I believe that we all have options available to us, at our fingertips. I just don't think we're given the grace to explore those options. I don't think we're given the grace to experiment.
In our 20s, we're conditioned to think that we have to have it all together and check certain boxes at certain ages, and it's like, life is long. We're here for a minute—what is the rush, you know what I mean? And so I think that in the time we're living in now, I think people are reclaiming their lives, and they're honouring their feelings. They're saying 'no' more often. They're setting up boundaries. They're leaving their jobs, and they're finally taking that class, or learning that language, or pursuing the hobby that they've always wanted to do because they realize that they should put themselves first.
BB: As far as authenticity goes, how do you think that ties into mental health? How do you stay authentic?
PR: That's a great question. Recently, I attended a conference in Atlanta, and I spoke on stage. About an hour before I got on stage, I was texting the host, and the host told me 'show up authentically.' So I ditched the heels, ditched the dress, and I wore a fly-ass Nike tracksuit and kicks, and I just felt comfortable.
I don't think a lot of people are f*cking with the bullsh*t anymore. I think people are tired, and I think people are trying to preserve their mental health by no longer wearing a mask, you know? I show up in the spaces that I operate in by honouring how I feel, so if that means declining meetings, not going on Zoom, if that means moving my calendar around, not taking that flight…I honour how I feel. I know that I shoulder the responsibility to run a company, but I definitely think that I have systems and a team in place so that if I walk away, there's no panic. Showing up authentically to me means honouring my feelings and being truthful with my lifestyle changes, my coping mechanisms, and the state of my mental health as it relates to my community. It'll show up in my captions, Instagram stories, and how I interact. In my DM's…when a Black woman, a woman of colour, stands up for what she believes in and shares her real-world experiences, it permits other women and girls to also check on themselves.
I quit my corporate job in January 2019; I was an executive assistant for ten years. I worked at multiple organizations that were white-led. I never abandoned who I was. When I left college, I gave myself permission to do whatever the f*ck I wanted simply because everyone in my life told me that I could not, would not, should not. When I left college, that was me leaving all of that behind. So I was very particular about where I wanted to work.
When you interview with corporations, you also have to interview them to see if it's a good fit for you. I was not gonna just let someone hire me. Having a sense of balance was important; work-life integration was important. They had to know that I had a life outside of work, they had to know that if something looks fishy, I'm gonna stand up for myself.
Being oftentimes the only Black woman, and the youngest in certain spaces—as an executive assistant, I aided presidents and CEOs—sometimes my superiors thought that I should just kinda stand tucked away in a corner and not say anything. I always said something because my dad taught me that you can always get another job. Now, what that job looks like is your prerogative. I was always under the belief that if I stood up for something that I believed in and the company was not in alignment, or I was gaslighted or harassed, it just wasn't an opportunity that was meant for me. I've never felt threatened by any white person at any organization because I'm an asset.
BB: Being a Black woman in business environments, have you been face to face with any racial discrimination? If so, what did you do about it in real-time?
PR: More so ageism. I started in business very early, so it was more so people thinking like 'at your age, how much life have you lived? What kind of experiences have you had? How can you contribute to the conversation?' Being Black in the corporate arena honestly has been an asset because a lot of these white organizations—I worked in accounting, finance, retail, and consulting—worked in my favour.
In some instances, like in the corporate retail space, they were trying to target people of colour, so they would ask my opinion. I cannot say that being a Black woman in the corporate arena that I've experienced direct racism. Have I been gaslit, have I been talked down to? It was more so because of my age and position; I don't believe it was because I was Black.
As an entrepreneur, being Black has worked in my favour as well. I run a ghostwriting agency and often I get hired to pen books and speeches for celebrity clients, and there are times when that celebrity is not in the room, but the representative is. There are times when, on conference calls of 12, 14, and 16 people, I've had to stand up for what was right because the team, which was white, was making an uneducated decision on how we should proceed with a certain project. So in those cases, my Blackness has helped me, has informed my decisions, and has helped me stand up for myself. And when I say 'stand up for myself,' a quote comes to mind by Maya Angelou:
"I stand as one, but I come as 10,000." It pretty much means that I have my ancestors with me, I have my grandmother with me, and I have my great-grandmother with me. I won't shrink. In my younger years, I didn't have a voice, didn't have confidence, and I never raised my hand. Now that I'm a grown-ass woman, I just make sure that I know my sh*t, I'm well informed, and when I do speak up, it's incredibly accurate. And the other thing is, I'm willing to walk away.
Sometimes what will happen is women of colour, Black women will be in situations where they will witness something that's off, and they won't speak up because they're afraid to lose their job. Or, if you're an entrepreneur, you 'eat what you kill' so you don't want to be fired or penalized or docked pay. I have to stay true to my values because I run an agency of Black women and women of colour—what example would I be for them if I just let sh*t slide? So, I always, always stand up for what's right, and it's very important that I run my business with integrity.
BB: In your career, you've been transparent and used vulnerability as a strength. How do you balance that with not over-sharing?
PR: I have been transparent with my mental health journey since 2012, so nothing to me is necessarily over-sharing because I've normalized a conversation with my audience. Now, I believe in making calculated movements and timing; while I'm open to sharing absolutely everything, the timing of when I share, I'm a little bit more calculated with that.
I also understand that you have to read the room. I'm likely sharing on my social platforms when I feel led to, but I'm most likely sharing on stage, and if I'm speaking in front of other entrepreneurs, it's to illustrate relatability.
Because I've been talking about this for so long, I don't get embarrassed, I'm not ashamed, I don't think it's going to hurt my career. If anything, it's helped build community, it's helped build loyalty, it's helped build trust. I do feel like the community could use more [transparency], to be honest, because we're seeing more people ride around in whips and yachts, and everybody's telling you how much money they made in the pandemic, and they made it in 30 days, and no one's sharing any real feelings anymore.
It's like we're so numb to social media and trying to compete, and I'm tired. I work hard, and I do well, but I'm very tired, and sometimes I'm sad. I'm an empath. So I also feel the energy and the weight that other people carry. When Kim K said "I have the best advice for women in business: they need to get their f*cking asses up and work. Nobody wants to work anymore," it caused outrage for women around the world on the internet. It's a huge problem because Kim K comes from a place of privilege. Her views on hard work are aligned with cultural appropriation, dishonesty, manipulation, and theft. There's a larger conversation here and I don't feel like she used that moment in time wisely. I don't feel like she read the room; I feel like it was tone-deaf. She could've said the same thing differently.
There are women who are working their f*cking asses off—our parents, our moms, our grandmothers. Getting to success doesn't just consist of 'working harder.' Some of our parents did not have access to resources and education. I was very emotional because I literally felt the weight of every woman I've ever mentored, the sh*t my parents have gone through when they've tried to move up the ladder, the women in Ukraine and around the world who are literally just trying to survive every day.
That's why I get upset. I think more transparency is needed on all levels—from working women all the way up to celebrities. When I see sh*t like that go down, I know that what I'm doing is the right thing. There's unrealistic versions of what it takes to be successful on the internet. It's manipulative to the younger generation when we're not honest with them about the times we've cried all night, the times that our bank accounts have been in the red, the times that our parents or people around us didn't believe in our dreams. When you don't share those moments, it's just not fair.