According to a survey by Abacusdata, 76% of 300 Black Canadian entrepreneurs believe that access to funding and financing, low trust in banks, and lack of industry networking and advice, make it hard for Black businesses to succeed.
Harnessing an extraordinary leap of faith, husband-and-wife team Stevens Charles and Myriam Jean-Baptiste built an award-winning cream liqueur with help from the Federation of African Canadian Economics (FACE). And now they're pioneers and hometown heroes in their birthplace, Montreal, Quebec.
BB: So, where did the inspiration for the cream liqueur come from?
Stevens: LS Cream is a cream liqueur inspired by a recipe from Haiti that's called crémas. It's coconut, nutmeg, cinnamon, and vanilla, all together. We grew up with this recipe, seeing our aunts, our grandmothers, our moms, making this every holiday, and people loving it.
BB: In the beginning, how big was the knowledge gap between where you were and where you needed to be? How did you bridge that gap?
Myriam: I think that for us, it was a long jump because we didn't know anything about the spirits industry. We had to research it from scratch because we had no idea where to start. As entrepreneurs—Black entrepreneurs—that's something we all need to do. Steven and I had a business background, we both studied at business school here in Montreal, but just to be able to find our way through everything—plus the fact that we didn't have any friends or family members who were in the industry or that had a business—meant we had to figure everything out.
Stevens: [We were like] fish out of water. I was a bit fortunate: my job was one where I could manage my own schedule. Myriam was more 9-5, had to be in the office. In the beginning, I was more involved because I could travel and still be able to do my job. So, I went to one of the biggest conventions in the spirits and wine industry, which is called the Wines & Spirits Wholesalers of America (WSWA), in Orlando at that time. The admission ticket was $500, just to get in. It was only people from the industry that was there, and I went and started shaking hands with people to start to understand this industry. That's where everything started. I connected with the people that ultimately helped me make the bottle and also the actual cream recipe. All of that just by going there, taking that leap of faith, and not being shy to talk to people. That helped us tremendously to expedite everything that we were doing.
BB: With your product being inspired by the traditional cultural drink crémas, you must've known you had a strong product. Did having your community and family's approval contribute to your success?
Stevens: I think it did because, for us, we knew were about to go on a journey that was gonna change the perception of crémas. It was part of the gamble. We were gonna start in Quebec, and our goal was to make people who were not from the Haitian culture discover crémas. So one of the first things that Myriam and I did was go to a college friend's birthday, and we were the only Black people there, the only Haitians there, for sure.
We brought a bottle of homemade crémas with us, and we put that bottle right next to the wine, the gin, the vodka and we didn't say anything to anyone. Throughout the night, we saw people starting to gravitate toward the bottle—mind you, it was in a Smirnoff bottle, but you could see clearly that it's a creamy texture; people were sharing it and they knew it was homemade.
They started to say "Oh my God, this is so good. What is it?" We said "listen, guys, we're doing an experiment and everybody has a chance to taste it—what do you guys think? Is this something that would appeal to you if it was on the shelf?" And everybody said, "yes, in a heartbeat!" They did have a few comments like there's gonna be sugar residue, which wouldn't be too appealing, and also the shelf life was a big thing. So yes, we did want to 'piggyback' off the cultural aspect of crémas, but we wanted to go beyond it and really take the taste and put out a product that was gonna be gluten-free, all-natural ingredients, and have a shelf life that's longer. We wanted to refine a Haitian ancestral recipe by still giving the flowers to the first original OG because we grew up with this, but also create something new and be on the shelf with the big boys.
Myriam: LS Cream was inspired by crémas, but with a twist. Crémas is originally very thick. You have to tap the bottom of your glass for it to come down. It's almost like a dessert. For us, it was very important to position ourselves with the other cream liqueurs that are major and everybody knows about, but still bring our heritage and history to the front because that's where it comes from. Without our Haitian heritage, without that background, there would be no LS Cream. To present it, and to shed a different light on Haiti; it's a product of excellence, it's an award-winning cream liqueur. We made sure on the new bottle to put the Haitian effigy on it because we're proud of it.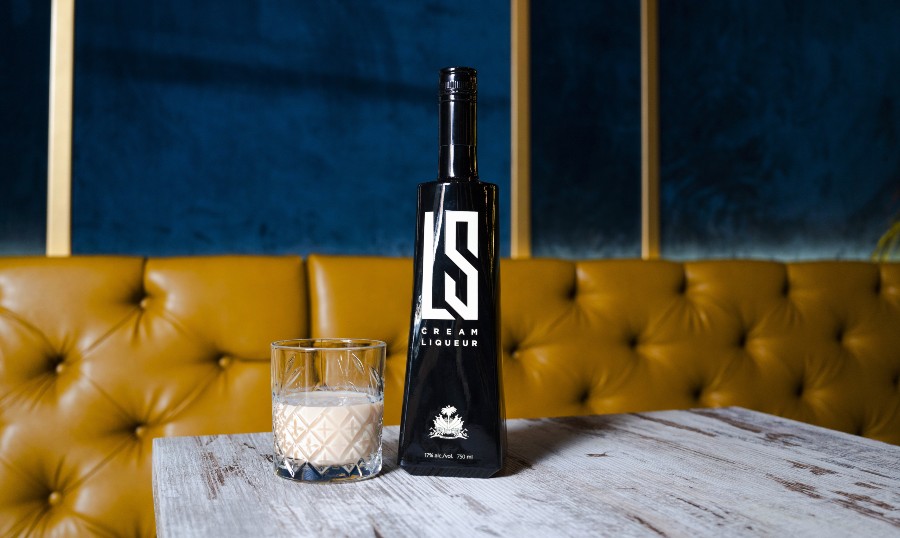 BB: There's a notion that Black people need to perform twice as well as anyone else to succeed. What kinds of challenges did you have that were specific to you as Black business owners in the liquor industry? How did you overcome the challenges you've faced getting LS Cream into the market?
Stevens: In this industry, there are a lot of gatekeepers. Even in the states, the bigger company keeps some kind of a hold on the industry to not have newer guys like us succeed. It's on purpose, to give you a hard time. And if you're able to succeed, they'll accept you into the fold. They do it on purpose. It doesn't matter that someone in Boston wants your product; if you don't have distribution, you can't sell it to them. And the people that hold the distribution are old white men's institutions that have been there, historically. So you'd have like three major distributors…they already make multi-millions, billions, whatever, in one State. If they don't need you, don't want you, you're done.
Myriam: That's where Steven and I really had to push. We were making calls every single day, sending emails every single day to get the attention, and finally, we were able to get in, five or six years later.
Stevens: Yeah, 100%. There were wrong correlations with the brand. For example, in Quebec, up until recently, LS Cream was the only Black-owned brand on the shelf of the SAQ (Société des alcools du Québec), which comes with a lot of stigmatization because we're operating the business in a different kind of way.
We had come to realize that from other people's perspectives—because we're putting a Black person in an ad with a bottle of LS—they felt that we were only targeting Black people. And comments would be made like "we don't have the clientele or customers for it, most of our customers are white here and you guys are doing a product only for Black people." That doesn't make any sense. That's like saying "oh, because you're not Spanish, you cannot drink Spanish wine."
Myriam: Some of the locations that worked best were actually way up north in Quebec—we know that there are no Black people up there. It's the quality of the product. Yes, there's the history and the founders behind it, but it's a cream like the other creams.
BB: Did you have to be all-in and leave your 9-5 behind, or is LS Cream a side-hustle?
Stevens: I was fortunate enough to be able to juggle the two, but even doing that was becoming really hard. My job was not a 9-5, it was not a kind of job where there's a guarantee. I was a mortgage specialist, essentially, so the more clients I had, the more money I made in terms of commission. Eventually, we made the decision that I was gonna quit my job first.
Myriam: The thing that's important is, you can't do both. I don't think that you can push your business to where it has to be by working on your business on the side; it will either take time or something will suffer from it—like Steven was saying, his 'normal' job was suffering, or LS Cream was suffering. We made the decision that he would go ahead and focus 100% on LS Cream and I'd still help out where I could and there's nothing wrong with that, either, because that helped us fund our dream and our business.
BB: What were some things you did to keep you from getting spread too thin?
Stevens: Right now, we're only in the SAQ in Canada, in Quebec, and the reason for that is because we don't want to spread ourselves too thin. We're from Montreal so for us, it's fairly easy to sell the product here with minimal bandwidth, because we're so much in the States. The product doesn't stay on the shelf very long here because there's community and support, we're the home kids. If we were to go to the LCBO right now, it's something we're considering, but there's gonna have to be a bigger strategy applied.
Myriam: That's part of the goal also, to not only be in the U.S. and Quebec.
Stevens: All over Canada. We have DMs, comments, emails, people are like "when are you guys coming to LCBO?" We're like "we're coming, the plan is in motion, trust the process." It's a steady growth. It was hard in the beginning because the liquor board here, the SAQ, similar to the LCBO, control the orders, so even if your product is depleted, you're not necessarily gonna receive another order from them in a timely manner, so it was definitely slowing our growth. The price point wasn't always the greatest. But we kept on being called by the U.S. and we saw demand in the U.S. So, we went and started with the easiest state which was Florida; as soon as you're able to have a distribution in Florida, you can basically go into the stores and get your product in. And then we got a call from New York—we started with one store, and now we're in like 150 stores.
BB: What was your experience working with FACE? How did they streamline your progress?
Myriam: What Tiffany Callendar and the whole entire team at FACE are doing, I think it was a long time coming. We needed this—not only us but the entire Black community needed that type of support to help elevate and push us a bit further. We all know that financing is always the biggest hurdle in businesses, but mostly for Black businesses, it's hard. For them to come in and not only help us financially but also give us the resources to make ourselves better, to increase our knowledge. That's something amazing. We should've had that for a long, long, time, but we're very happy we're a part of it now.
Stevens: And also getting a fair look at the business; we felt that before FACE when we would approach a financing company, they would not see the work. They would only see what's on the paper, and the story is irrelevant as if it's not a success to be the only Black-owned brand on the shelf of the SAQ. It's like, you're not even gonna ask yourself why in 2015, 2016, 2017, 2018, 2019, LS Cream is the only Black-owned brand on the shelf, on the government-run liquor board? Isn't that a red flag for everyone? The liquor industry is not an easy industry to navigate in. But with FACE's support, we were able to tell that story and it paid dividends.
BB: Is it access to capital and finances alone that is a drawback to business hopefuls?
Stevens: Everything we discussed is true. The only thing that we need to add to that is the image. I think that's what FACE is gonna help to do: put an image of an entrepreneur that is not only a white person in a three-piece suit. We come in all shapes, sizes, and colours. There's a lot of privilege that's been shared around the whole country. If you're the daughter of such-and-such then you have a pass or an easier path. We've seen it, we know those people. And they're telling us "yeah, I was privileged, my dad had a winery for x number of years, I already had the contacts at the SAQ so now I'm doing my gin, or I'm just taking over the wine of my family." I think showing that an entrepreneur can look like us is going to help a lot.