While she didn't have the resources or skill to make an actual doll out of plastic, she thought making sock dolls would be fun. She had seen them before, and they reminded her of her little niece. However, after searching the Internet for ideas on how to best represent her niece's skin tone with a darker-skinned doll, she wasn't prepared for what she found.
"When I googled Black sock dolls, the first thing that came up was mammy dolls and slave dolls and antique dolls from the slave era," she says. "They were not beautiful at all. They just looked terrifying, and I couldn't imagine that any Black person would say that represented them in any way." So, she searched for brown sock dolls with the hope of seeing different results; however, this time, she saw pictures of soft monkeys.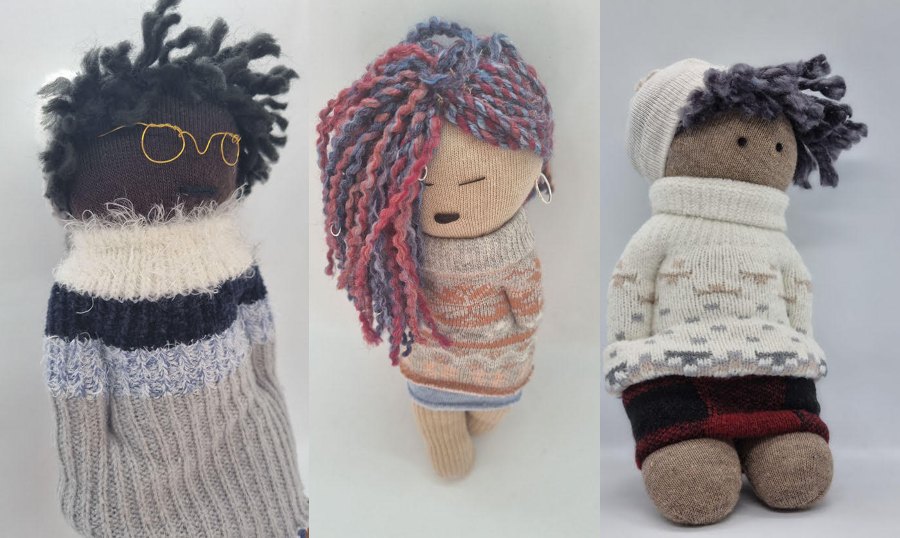 Saddened by the options available to Black and brown people, Rebecca had an emotional moment. As a mother of two sons, she could not imagine them, her nieces, or other Black children wanting to make sock dolls for themselves and seeing such representation on the Internet. "Once I got over that feeling, I took a screenshot of the search and said, 'okay, this is what's there now, and I want to change it. I need this to go away so that the options are replaced by something beautiful." She thought about how to change the first options people saw once they searched for Black or brown sock dolls, which ultimately led to the creation of Black Brown Sock Dolls—an awareness campaign to create one hundred Black and brown dolls.
After learning how to make sock dolls from various YouTube tutorials, Rebecca bought as many web domain names as possible. "I got sockdoll.com because apparently, it was available. I bought 'blackbrownsockdolls,' 'beautifulsockdolls,' and 'brownsockdolls.' It wasn't something that I planned at all," she says.
"I get that this is just one person having a bad experience when googling this thing, but I feel like it's so important to acknowledge that we can make a difference no matter how small it is," she continues, "I'm doing this for anybody that this would impact."
Rebecca tailors the dolls stylishly to represent people she knows, using socks of various beautiful skin tones. Dressed in outfits ranging from loungewear to stylish African-inspired regalia to sweaters and jeans, the dolls on her website come in different hairstyles and with an array of accessories. "I wanted my dolls to have an attitude and a sense of style. I didn't want some regular old soft doll," she says. The website also has a helpful tutorial on making your own stylish sock dolls.
As we've seen throughout the years, issues of representation are consistent, even in the world of dolls. Not too long ago, leading doll maker Mattel came under fire for its discrimination and underrepresented Black dolls. Even Walmart in the U.S. was chastised for selling Black Barbie dolls for half the price of the white ones. While representation has been progressing since 2015—including the release of a range of Barbie dolls with various skin tones, hair and body types, and even disabilities—it has been slow. Still, it's a step in the right direction.
In talking about the lack of diversity in dolls, Rebecca says: "My mom used to make dolls for us when we were kids, and we didn't have much money. In the Caribbean, there would be a lot of these white plastic dolls we would get for Christmas because these were the ones imported to the island. And I found that many of the dolls we had growing up didn't represent us," she recalls.
It was through her campaign that she realized that doll making was a part of Black culture that had existed for generations as mothers and grandmothers wanted to make things to represent their children. "I really wanted to experience that love of putting my whole heart into something for someone that was this precious and beautiful to me," she says.
Rebecca now has a GoFundMe page to support the website's SEO and general web hosting. "I wasn't really sure what I was going to do with the website part of it; all I knew is I had to grab as many sites as possible to put the information online." Although she has reached her goal of creating one hundred sock dolls, the campaign is still going strong as people across the globe have joined her to make their own sock dolls. "People have seen it in Vancouver, Trinidad, and Atlanta," she says.
When asked how her niece felt about her sock doll, she said, "Oh, she loves it! It makes me so happy. Just seeing the look on my niece's face cuddling the doll I made for her is priceless." While her niece doesn't understand the campaign or the impact of her sock doll, her excitement over holding the doll and carrying it everywhere makes Rebecca feel happy and accomplished in getting her message out.
"How we are represented means something to us. Living in Canada and seeing only white faces being represented on products does something to my spirit; even though I don't say it out loud, it does affect me. So, when I see brown families represented on a billboard for advertising, it does something to my spirit. Because I know I'm being thought of."