Responsible for "promoting poetry and arts across the province" as put by Adjei, the office of Ontario's Poet Laureate was established in honour of Gord Downie, the late lead singer of the legendary Kingston, ON-based band The Tragically Hip.
Since his teens, Randell has been an active voice in support of the arts. He has created avenues and platforms for both his own self-expression and of others in his community. His poetry, which is simultaneously high energy and calming, has been captured in part with his book, I Am Not My Struggles, released in 2018.
"We have a lot of trauma that we've been dealing with — ancestral trauma, family trauma, generational trauma, personal trauma, societal trauma, racial trauma… we're carrying a lot of things, right? And I think it's important that we find ways to express this trauma," says Adjei. "I think we just need to ensure that we create spaces where our trauma can be healed, where our trauma can be expressed."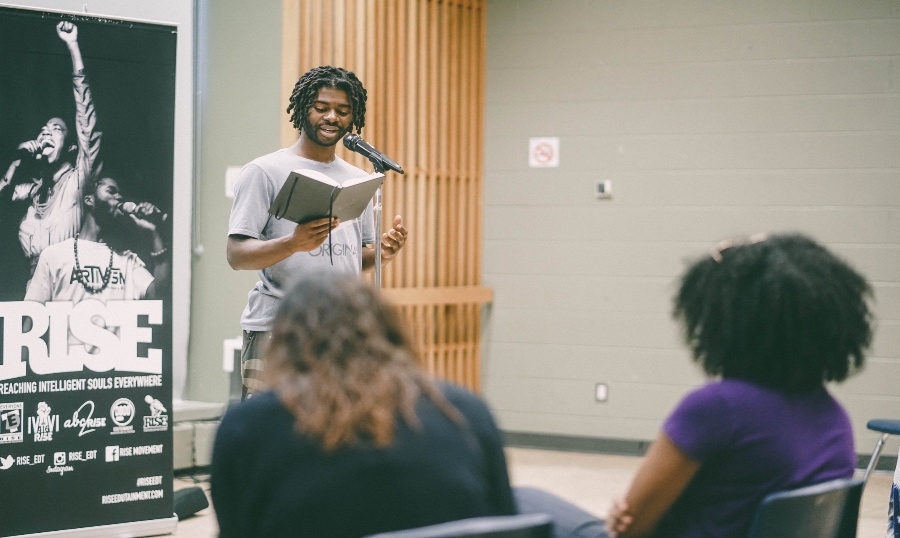 Randell Adjei, R.I.S.E Edutainment event Credit: Anthony Gebrehiwot
Despite obstacles caused by the pandemic, one of Randell Adjei's biggest initiatives, a platform for artists called R.I.S.E Edutainment (Reaching Intelligent Souls Everywhere), has been a continued hit throughout Toronto's creative community since its early days in Scarborough, Randell's hometown. R.I.S.E Edutainment began as Randell's response to having been attacked one night in his own neighbourhood — an act that had turned his life around by influencing him to become a light for Scarborough and surrounding communities, and placed him in the hearts of many Torontonians; particularly those who have tuned in and participated in the R.I.S.E Poetry and other events produced by Adjei. Managing to set aside a few minutes in his schedule to talk about his new province-wide duties, Randell shares a word with us at ByBlacks.
What does it mean to you to be Ontario's Poet Laureate?
I think it's a really amazing opportunity for a lot of artists, creatives, and visionaries to have an opportunity to see themselves represented. I think it's also really amazing for young Black or Brown boys and girls to see themselves represented as well, and an opportunity to really be able to speak to a wider audience; a provincial audience. I think there's something very powerful about this — but it also means manifestation is real. The ability to really manifest the things in which you have dreams about, the things in which you have hope to come into the light… to see them manifest is a very beautiful thing. It means a lot to me.
Can you explain what your duties are as Poet Laureate?
As a Poet Laureate, the duties are really about promoting poetry and arts across the province. It's about utilizing this platform to ensure that art, culture and poetry are being amplified as best as I can, within my scope. But I've also been working with some other cool organizations, connecting with other Poet Laureates to bring things together and make some things happen. Because it is the first, it's new, and the legislative assembly is working with me to collaborate. So it's really beautiful because we both get to create at the same time. And I [get to] help create that legacy of what it looks like moving down the line for others.
Right, because it's the first one, you have to set the tone.
Yeah, exactly. There's not necessarily a standard yet. There's not an example. So I get to create an example of what it looks like for the future.
Are you familiar with Gord Downie and The Tragically Hip's music and impact Canada-wide?
I knew about the Tragically Hip. I can't say I knew too much about Gord. So I did a lot of learning and research where I learned a lot about his practice and his art. But no, I can't say I really knew much prior to [becoming Ontario's Poet Laureate]. I did do some research to learn a bit more about him. And I've had the opportunity to talk to his brothers and his daughter… I spoke to them a little earlier this morning, actually, just to learn a little more about him, and how to ensure his spirit is still represented in this position.
Do you have a personal mission or goal within your new role?
I'm really excited to see more Ontarians write and use poetry — I think through Covid a lot of folks were journaling. They were writing about their experiences and what they were feeling and I'm hoping to encourage more folks to write. I'm hoping to work with the Ministry Of Education to ensure that there are more opportunities for young people to learn about themselves through poetry and that poetry can be something that can help inform their self-identity, build resilience, learn how to express themselves and build confidence. In addition to that, I'm hoping to make some bridges for poets as well too, whether it's financially or opportunities for poets to get involved. Poetry isn't always an art form that is seen like visual arts or dance but I think there's room for poetry and spoken word. And I really feel like there is a great opportunity to highlight poetry and spoken word for what it is. I think those are some of the main goals that I have right now, and obviously to travel the province and help create programs, initiatives, open mics; to share my knowledge of curation, my knowledge of poetry, and help other townships and cities create their own events — weekly, monthly, whatever.
What were you in pursuit of when you first began your journey with poetry? Do you feel you've attained that now?
My start with poetry was more so about the release. It was more so about finding myself and releasing some trauma. Working through some hardships, challenges and things that I've gone through. I think it evolved into a spiritual transformation of myself. Poetry was a vehicle to help me get there. Poetry was how I was able to kinda follow my destiny and reach a certain destination. I can't say that I've reached there. I'm still learning about myself. I'm still growing, I'm still becoming the man that I've always seen myself becoming in my mind's eye. So I know that there's still more to do. There's still more to learn. I humble myself to recognize that I don't know very much. I'm still learning in life.
So there's more to do, you say?
So much more to do. There are more places to see. There are poems I haven't written yet that are probably gonna be my best! Because I'm getting older, I'm getting wiser. I'm learning more and so my best is yet to come. Because I think the moment we kinda think we've reached, as long as you're alive, you've never reached. That's my thought process.
Have you ever tried any other art forms to express yourself creatively?
Dance was something I've done over the years.
What kind of dance?
A little Hip-Hop. Back in the day, I did Dancehall, but more Hip-Hop than anything. Poetry was probably the primary art form; I never took dance seriously. Poetry's always been kind of the bread and butter. I'm an orator. I'm a speaker. Naturally, that's a gift that I was given and I think speaking has always been that platform, that art form for me. Naturally, poetry is it.
It's a popular notion that pain and struggle make the best artists, making your book's title, I Am Not My Struggles, an interesting one. What are your thoughts about pain's influence on artistry?
I don't always believe that pain and struggle are necessary for artists to create. I think creativity is creativity, you know? And we find creativity when we're inspired. We find creativity when we are disappointed. We find creativity when we can explore emotion and I don't think it always has to be a negative emotion. I think creativity is something we should work with, so I challenge myself personally to write when I feel happy. To write just because or for the sake of. I think struggle and pain are necessary as a human, but as a human, when we take it in as human beings and develop ourselves as human beings, then I think we can take the learning [of] lessons and create art. I think it's a process of experiencing life, learning as a person, and taking it into artistry. I don't think it's necessary for the artist to experience hardship. There's a notion that it's important, but I think it's more so about the person getting more comfortable with their vulnerability. And being comfortable with the fact that they are human, and the fact that hardships happen because you are human. And that challenges are really here to prepare us.
Is that something you go into depth in with your book, or is it more of a broad concept?
It's more of a broad concept. When it comes to my book, I wanted it to be an affirmation. So when people ask the name of the book, I say, 'I Am Not My Struggles.' So it's an affirmation for me but also an affirmation for others that when they talk about the book. It's not just the fact that they're saying the title of the book, but they're reaffirming that they are not their struggles. I personally don't believe that we are our struggles. Many of us feel like we become one with the things that happen to us. I think it's that you can experience it without attaching it to who you are as a person. I think it's important to recognize that these things happen to us, but they're not of us… they're just things you walk through in life and navigate through. Throughout the book, there are themes that will kind of illustrate that our hardships do not define us, but that they design us. So I don't explicitly say it in the book, but the poems speak to the theme with respect to how I was able to learn from this challenge. Some of the themes in the book are about belonging, or my father, or about feeling like I wasn't accepted because I'm Ghanian, or just because of the trauma I faced when I was younger. All of those themes really speak to the title of the book. I Am Not My Struggles.
Do you feel like enough importance is placed on art?
I think one of the most important things to recognize is we have to encourage the arts within the youth and in children. I can't emphasize [enough] how important it is. Without art, I wouldn't be who I am today. Without being exposed to different art forms, without having opportunities, I wouldn't be where I'm at today. For parents, I think it's really important that we encourage our children to express themselves through art; that art can be a medium for them to learn about themselves and to encourage that. My parents, when I told them that I wanted to be an artist, that I wanted to be a poet, they weren't really happy. They didn't see the opportunity, they didn't recognize what it could do for me and how it could help me. But my parents were there during [the acceptance ceremony] and of course, they were really excited and happy. So it makes me happy that they're proud, but I think it's equally important that parents encourage their children to explore art as a vocation. As a career path.
Secondly, as a community, we have to find more ways to express ourselves. Our trauma doesn't mean that we're weak or vulnerable. I think as a society — as an African diaspora — we need to get better at truly recognizing that our trauma can help inform the next generation to heal. That by expressing our trauma, talking to our young people about the traumas and things that we've faced, creating a safe environment at home, and being a safe environment so that children can come and talk to us, they can have the courage to talk about what they're going through. I think spoken word and art and poetry are just that; it's building a bridge so that we can talk about our trauma.
We can't wait for anyone to give us an opportunity. This opportunity came because I know I deserve to be here. I've worked very hard. I've sacrificed so much. I've lost a lot to be here and to get here but I don't regret any of it. But I think it's important that we see ourselves in these positions. That we can find ourselves and make history by being in these positions. When I submitted the application I did something that Denzel Washington says: say thank you in advance for what's already yours. So when I submitted the application, I said thank you.
I've been saying this a lot. When we think about our parents and our ancestors, it's important to recognize that as 'diasporans' we look towards what they've done as kings and queens before the narrative of being captured. There's so much more to it and I think it's important to recognize that we will be ancestors one day. We're going to be remembered for what we did and how what we did ultimately informed the future generations; our descendants that will come. Every day we get to live, we get to create that path for them. Every day that we live, we're ultimately carving out that legacy that's gonna make it easier for them to be in positions [like mine], or to be in higher positions. I can't wait for the day we have a Black prime minister, or a Black premier, or a Black mayor. Those are things that are happening in the States but we haven't seen it here, north of the border. We have to understand that we can be in those positions, and do that. It's exciting, man. It's exciting to see just what's happening.
R.I.S.E Edutainment's weekly events are live-streamed at 7 pm on Mondays. Visit riseedutainment.com for more information and access to the Zoom links. To learn more about Adjei himself and his other projects and achievements, visit randelladjei.com.