During that period Kobe found out the Mauser was also the girls basketball coach and also got to know Mauser's wife and assistant basketball coach Christina. If that name sounds familiar its because Christina Mauser ended up becoming the assistant basketball coach beside Kobe for the AAU team Gianna Bryant played for. She was also one of the other 7 victims killed, along with Kobe and Gianna in a helicopter crash this past weekend in Calabasas, CA.
As I scroll on my phone and surf the web, I read more and more personal stories about Kobe from people all over the world as they mourn the tragic and surprising ill-timed death of the former NBA superstar, turned entrepreneur, venture capitalist, philanthropist, author, Oscar-winning film producer, and the list goes on. Kobe's passing sparked tributes across the NBA landscape, from players posting their emotions and memories on social media to moments of silence before tip-offs. NBA games have been starting off by players from each team drawing a 24-second shot clock violation as a nod to Kobe's #24 which he wore in the 2nd half of a 20-year career with the Los Angels Lakers.
But Kobe's influence goes beyond basketball and the NBA community. The sudden passing of a living legend seems to have the world shook. People just don't seem to know how to react. Kobe was primed for his second act, with the chapter of his NBA career closed leaving no doubt on his Hall of Fame status, Kobe showed the trajectory of a man who was hungry to experience life after basketball. There would be no more long NBA road trips, extended playoff runs or summer training camps. Time with Vanessa, his wife of 19 years, and their 4 daughters was on his mind and it was something he wasn't shy talking about.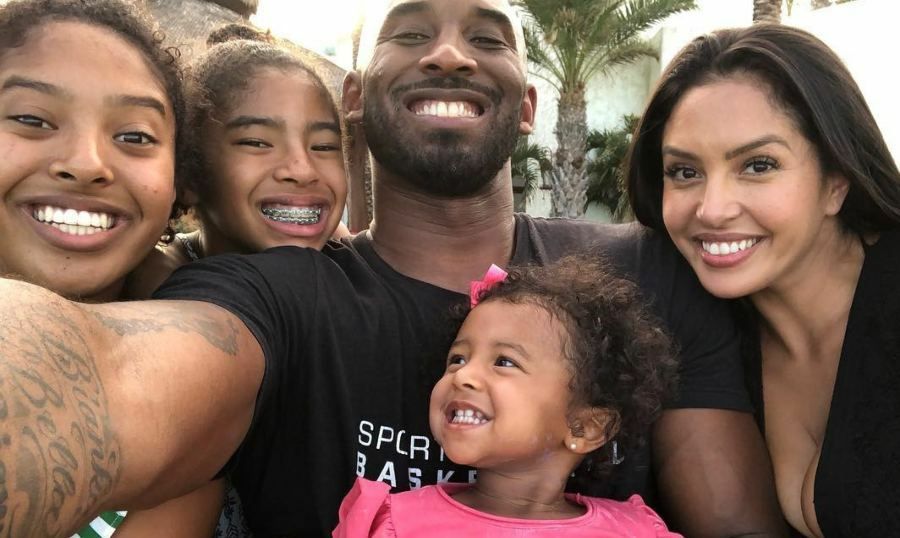 This post-NBA Kobe had an unexpected essence to it. The Kobe we witnessed between the time he declared "Mamba Out" after his last game in 2016 up to his tragic death this week was a man on a path to personal redemption. Kobe had always been somewhat of a renaissance man, being fluent in both Spanish and Italian and displaying talent in other areas like soccer and music. His NBA persona overwhelmed every other deep part of him during his playing career. As spectators to his life, we were only left to experience the tragedies and the triumphs of the public Black Mamba persona. After retirement, Kobe's artistic and intellectual talents started to take over. He defied all post-athletic career stereotypes. Former NBA players aren't supposed to win Academy Awards. They shouldn't be publishing children's books or becoming capital investors. We're not used to seeing them take pride in declaring their daughter would be the heir to the throne.
The beauty of a man's life celebrated after his death is often clouded by past indiscretions. It's certainly an interesting dilemma for several reasons, none of which I feel compelled to debate or address at this time. Why? Maybe because the U.S. justice system nullifies the weight of any opinions of a case that was closed back in 2004. One that Kobe walked away from avoiding conviction, but more likely carried the personal shame of consequently settling out of court with his accuser.
So no, you are not allowed to dig up dry bones to justify your disdain for a man in the wake of his passing to make you feel better. And yes, we are allowed to celebrate the complex yet redemptive life Kobe was so determined to live, seemingly for those around him, especially the women in his life. The layer of race adds even more complexity to the public reaction, with white women calling out Black women as "rape apologists" if they dare show any emotion about Kobe's passing.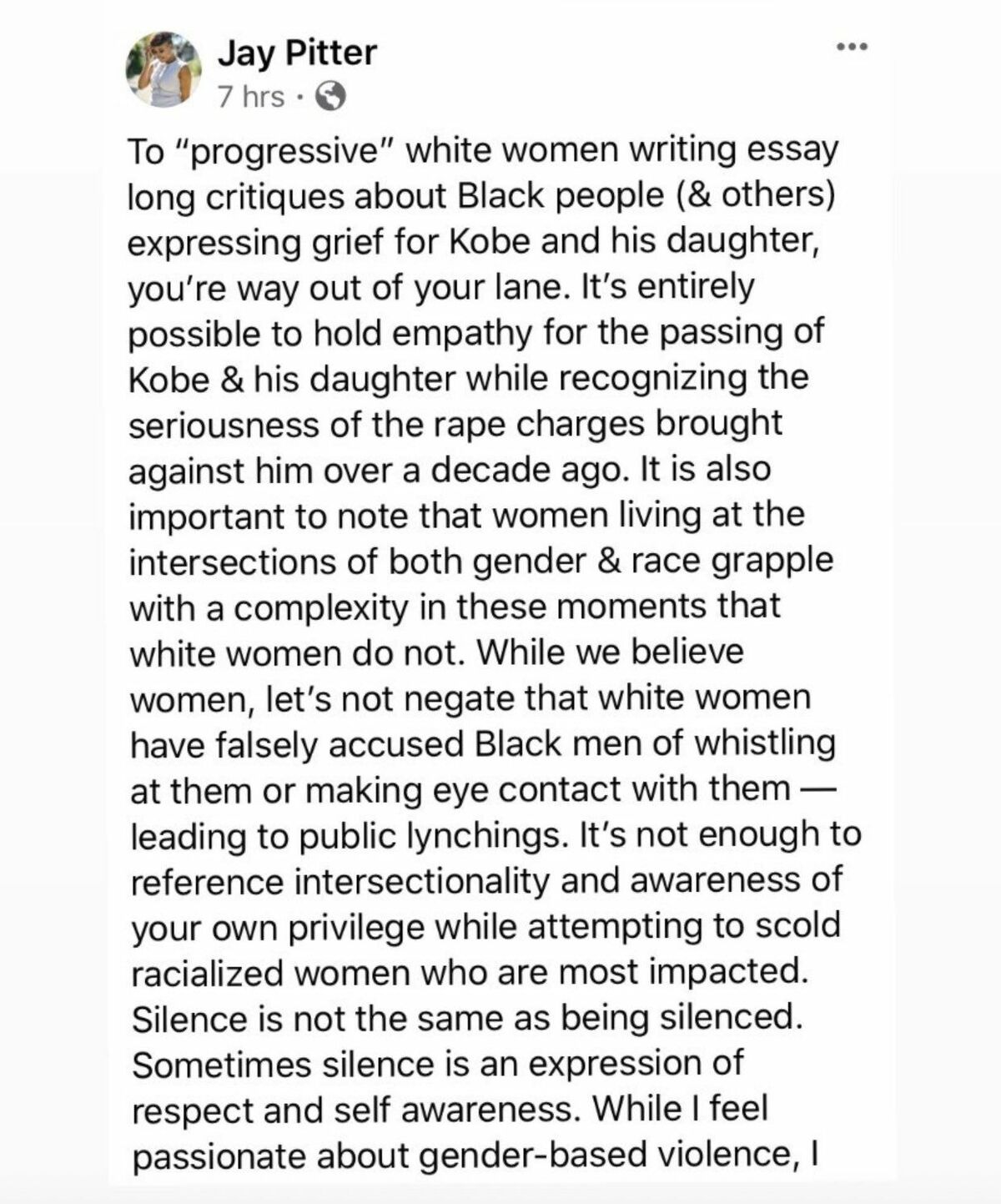 I honestly believe that moment of open public brokenness elevated Kobe to the redemptive life he decided to live with intentionality and purpose. Countless women have come out these past few days talking about Kobe and his admiration for his 4 daughters and his consistent advocacy for women leaders in and outside of sports, most notably the WNBA. Jeanie Buss, the well known Lakers owner finally broke her silence and addressed her Instagram followers with this story about Kobe:
"My father loved you like a son, which makes us family. When you invited me to lunch shortly after my father passed away, I was struggling to find motivation and purpose. Kobe, you brought Gianna with you to spend some time with me. You explained that you wanted to show her that women can be leaders in the NBA, just like the men. At first, it seemed like an action of a devoted father setting an example for his daughter. But in actuality—and I am positively sure you knew EXACTLY what you were doing—what you did was give me the inspiration and strength I was searching for. I reflect on that day often and it makes me smile and it makes me strong. I call on that memory whenever I feel down and need a bit of courage."
Tributes like these have flooded media outlets for days following Kobe's and Gianna's deaths. It will be the stories of those affected by his life the most that will carry on his legacy. A life that saw its sequel cut short far too soon.
Sheldon Barrocks is an experienced creative freelance writer, blogger and content creator with over 10 years experience. Combined with an extensive background in business management, Sheldon has a passion for telling unique stories from the Black perspective and is committed to sharing his expertise on Black business and career enhancement. Twitter: @sheldonbarrocks