Tracey and Allister are also the co-owners of a few other brands, namely: The Fa.real Urban Street Collection, screen printing company Fa.real Custom Tees, East York Clothing Collection dedicated to East York Ontario where they opened up their first storefront, and a line of comic strips entitled Bigg As$ Life, and Cady's Kids (exclusive to Soulful Image Magazine).
While running all of these businesses, one of their top priorities is to mentor those around them. I spoke with Tracey and Allister to learn more about their journey of changing lives through storytelling and art.
How did Soulful Image Magazine come about?
Tracey: It started out as a ministry. Years ago I started a women's group at a time when our marriage was having issues. We had broken up at the time and my eldest son (5 yrs old then) and I ended up at a shelter. That was when I was able to really see some of the challenges that women were facing. All of the women (except for me) were there because of severe abuse. There was a lady who moved in beside me, she had a two-week-old baby and a five-year-old daughter and every morning she was screaming at the top of her lungs at the little girl. I knew it was because of the trauma she had experienced and she didn't know how to really deal with it. When I write in my magazine, I think of her a lot. She was traumatized, scared, she felt alone, she had no one to talk to, and she had no hope of fulfilling her dreams. That was the seed that was planted to start the magazine.
"Begin To See Yourself" is the signature article of each issue of the magazine. The article sets the tone for the entire issue. There is a leading message which is, begin to see yourself happy or begin to see yourself redeemed/ renewed /restored. When I was pregnant with my youngest son, I heard the Lord say, 'start a magazine.' Prior to that, my husband and I had been working on his dream, his purpose. He is an illustrator and graphic artist/designer. He was creating T-shirts at the time under his business called Fa.real. So for years I had been helping him with his thing. But then one day I asked the Lord and said, "I want something of my own." Literally, after I had my youngest son, I heard in my spirit, "Start a magazine." I rejected the idea at first because I didn't think I was good enough to pull off doing a magazine. It wasn't anything that I had ever aspired to do. And I didn't think my graphic skills were anything near what it needed to be to make it successful. So I went to my husband and said to him, "I don't know why, but the Lord is telling me to start a magazine." He paused. He thought about it and then responded, "You know what? It's going to be the best-looking magazine out there!" And he committed himself to help me bring the vision to fruition.
How many years has it been since you started?
Tracey: 2013 is exactly when it officially began and we started online at first with no followers. At the time I was just a Christian mom who went to church and didn't really go anywhere and do anything; but when I started the magazine, God told me to get out there and network. I was petrified at first because I was like, 'I don't know anybody.' I really had to force myself out of my comfort zone and just trust where God was leading me. I had then connected with minister Tanika Chambers who runs a Single, Ready and Waiting ministry who became our first cover story for our first issue. It was through that connection that I just started meeting a lot more people at her church through Rhema Ministries who came on board as writers and contributors. I started to go out to more events and started to meet more people. And that's how our magazine started to grow now with over 5000+ followers, readers and/or subscribers.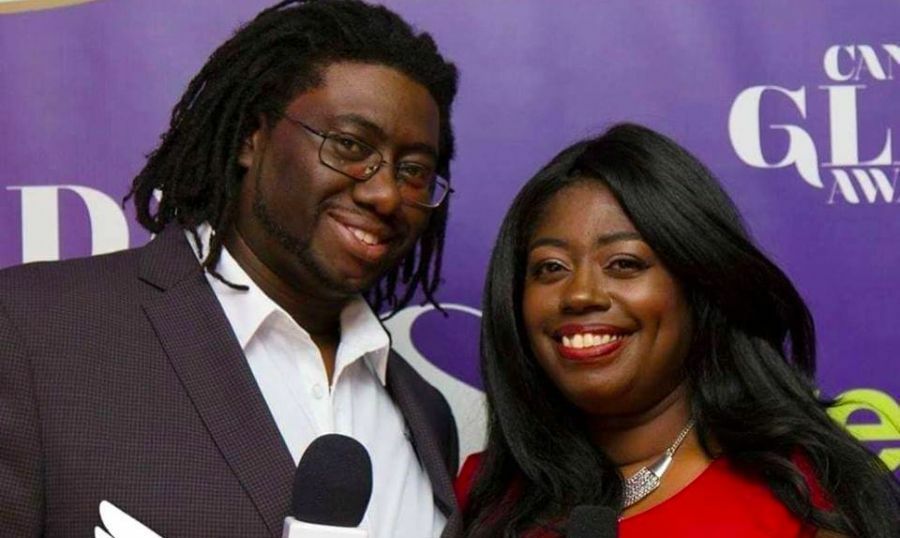 It took me a really long time to really wrap my mind around doing this magazine. In the beginning it was hard, but when I submitted to the call and got my husband involved, Allister did a lot of research and a lot to help bring the vision to life. He is the Creative Director of the magazine and the Co-Director of Operations. It's funny because when we started with his T-shirt business, Fareal, he did all the designing and I looked after all of the business side of things; but now that we are doing the magazine, I have the vision but he looks after a lot of the business direction side of things.
How important is it for a husband to support his wife or vice versa?

Allister: I don't support Tracey, I work with Tracey, there's a difference. Support literally means following her around and doing the stuff she asks for because I'm her husband. That is not my goal. Tracey took the time to tell me and show me what her vision from God was. She sold the idea to me first. So, I think that support is important but it should go a little deeper than that because support could run out of motivation. Tracey and I are a team in everything we do therefore there is alway continual fuel to see our projects through.
Tracey: I believe that the most important thing is a husband and wife should already be aligned in their purpose. So if they are aligned in their purpose, then whatever the project, whatever the task, they should already be able to fulfill that call. Allister and I are both artistic. Allister is an illustrator, graphic artist, and comic book artist. He is extremely talented. I draw too but I can't draw on his level. We are different in our skills but we're aligned in that way. There's something that we both have with visual stimulation in our creativity. Plus, I've learned so much from him. He has taught me a lot when it comes to graphic programs such as illustrator, photoshop, and Indesign.
Sometimes I find people get together for different reasons, but when you find someone who is aligned in your purpose you can create anything, you can do anything; things aren't as hard to produce when you're at that same level of creativity. And when challenges come, the beauty of what you have built together becomes a strong foundation in the marriage that makes disagreements not worth ruining a life of creativity.
Could you tell me about the BeYoutiful Project?

Tracey: The BeYoutiful Project was created by Gina Pomone, a wonderful woman of God from Global Kingdom Ministries. She found out that there was a void when it came to women who were going through a lot of financial challenges in the community. As women you know we all hold a lot of titles. We are mothers, we are wives, we are sisters, we are daughters, some run businesses, ministries, or mentor youth...there's a lot we do. And when we are struggling in life, sometimes it's hard to feel like you are valuable or that you are beautiful. So Gina created this event that she puts on once a year. Women from shelters and the community who are struggling are invited. Usually, they are nominated by a friend or family member who sees that they work very hard and that even though they are struggling, they need to be reminded of how special they are.
They need to be reminded that they are beautiful and that they are valuable and that they mean something regardless of their circumstances. We got involved with this ministry because I believe in her message and I believe in her platform, and it's very needed. We saw women break down in tears when they were gifted with this opportunity. With Gina's platform, it's a full day of pampering and beautifying. The women get their hair and makeup done, they get a massage, they get to choose three to four complete outfits, whether it be a dress, pantsuit, shoes, purse, and jewelry. They get a full transformation and a full photoshoot. So by the end of the day, they are just completely blown away. There is a full lunch served for them with Gina, she has high-quality speakers who come and speak life into them, and they get blessed with a bag full of free cosmetics and other awesome things that are donated. They also get a grocery gift card each and I always put one of our Soulful Image magazine issues in so that they can read and get inspired and uplifted by some of the other stories inside.
My magazine is filled with stories of people who have overcome challenges. People who have hit rock bottom or have gone through insurmountable odds and speak about how their faith in Jesus Christ has transformed their lives. And not only have they been transformed by their deep relationship with God, but the love and gratitude they feel inspires them to live a lifestyle of faith, giving them a strong desire to give back to their community in powerful ways.
Could you tell me about your upcoming Inspirational Kings Recognition and Awards Event? What is this event? Why are you doing it?

Tracey: One of the things we do with the magazine is to inspire and uplift as well as showcase stories of people who have overcome various challenges. So twice a year we honour men and women in the community nominated by their peers who have contributed incredible service to their community.
Our Inspirational Queens event happens in the Spring, and we are having our 2nd annual Inspirational Kings event Saturday, November 2nd, 2019 in Mississauga at the amazing Gospel Cafe owned by a beautiful Christian couple Collin and Lorena Williams. Our heart is to uplift and highlight people in the community who are nominated by their peers for doing something extraordinary. It's a chance to really allow people to be recognized. When I run my women's ministry I hear from a lot of them that they just feel unappreciated. They don't really feel recognized for a lot of the things that they do. Sometimes you just want to know that what you're doing has an impact. So I began the magazine focusing on women. Then three years ago, Devon Franklin came here for a men's conference in Brampton. I wasn't allowed in, only Allister was. I had to be in the lobby serving with the other women. But what Allister shared from the experience was that the men really needed and wanted more things like that to be involved with and to feel a brotherhood and be heard. So we started a special men's edition from that event and that's when we decided on adding the Inspirational Kings event.
This year we have Liberty Silver performing, eight-time Light Heavy-Weight Kickboxing World Champion Canadian fighter Simon Marcus is speaking. He is rated the #2 fighter in the world. We'll also have AMG Music Executive Mark S. Berry, our keynote speaker is Pastor Rob Meikle and a great line-up of Award presenters including Jamaican Chef Selwyn Richards, Philanthropist Marsha T. Brown and TV Host James Karl Erdt of the Dynamo Entrepreneur Show. Partial proceeds of this event will be going to the Reviver Rejuvenation Ranch for at-risk youth founded by James Karl Erdt. He is currently acquiring 2 large properties for the ranches, one for boys and one for girls, who have been sentenced as their last straw before prison to have the opportunity to transform their lives, turn from their rocky paths and learn skills that will help them become good functioning citizens in our communities.
How would you describe the road you've been traveling since you started this magazine?

Allister: There have been some rough patches but there's a reward to it.

Tracey: And we say it's rough for us because we didn't start any of our businesses with a grant or a pile of money. We took a lot of risks and chances with very little support from our family.

Allister: No loans. We had to do everything ourselves based on what we could earn. Everything is based on what we earn, the T-shirt business or our 9-5 jobs. I never thought for a second it was going to be easy. You asked a question before "what's your inspiration?" For me, it's the end zone. I picture where I want us to be in ten years or wherever, and that's what I work towards. Anyone who knows football knows it's extremely lucky if you go end zone to end zone without getting a tackle. But good luck because you're gonna get knocked down, you're going to get hit, you're going to be tackled, you'll probably stumble a couple of times, probably get a couple of interceptions but nonetheless throughout the game your goal is the end zone - you just keep running. You just keep on playing.

Tracey: And despite the challenges and hardships, we've seen really beautiful amazing things on this journey such as testimonies of people who have been touched by our work. There is the opportunity of the amazing people we've had the pleasure of meeting, connecting with and the events that we've been invited to. As well as some of the things that we've found favour in just by doing the magazine. In everything there will always be the good and the bad. But just being able to constantly create things that can help somebody, that is what gives me joy. It's what gives me fulfillment. Using our gifts and talents to glorify God is our heart's desire.
What are five steps people can take to begin to bring their dreams to reality?

Allister: Here are the things I'd tell my own child.
1. Get started. Tomorrow is not promised. You may never get another chance to do it.

2. Keep doing it no matter how much you suck at it. Keep doing it because eventually, you get better and better. It's about persistence. But make sure you are working to level up.

3. You're not the only one, other people have done it before you. Everything you want to do, there have been many other people who have done it before you, so you are no different from them. And there are many people who have created a new path of something and became a trailblazer. Find the example that is closest to you and do what they do. They have left lots of clues to success.

4. Work at it consistently. Study as much as you can about it. Get all into that thing. Know it inside out. If you are not learning something new, you are not growing. Sometimes slow and steady wins the race. Just be consistent. Don't give up.

5. Share your experiences where you can. It's important to share what you learn. The same way that you want to learn from others, people will want to learn from you.

Lucy Oneka is a playwright and journalist. She has covered many stories for Toronto-based newspapers such as the East York Observer, the Scarborough Observer, and the Toronto Observer. Lucy's other passion is music. She is a two-time semi-finalist of the prestigious UK Song Writing Contest and recently released her own debut gospel album, "You Are Faithful".