More importantly, I am Jamaican, a chef and I study food. In a September 2017 article by Ann Hui in the Globe and Mail, many in the general public became aware of Chubby's Jamaican through a single quote from Gusto 54 owner Janet Zuccarini, "I love Jamaican food and always thought we needed an amazing Jamaican restaurant in Toronto." Coming from a white person, this sentence is like dropping a grenade in a room full of Jamaicans except we don't explode, we multiply and throw our own grenades. Our grenades will be bigger and painted in Black, Green and Gold for surety.
Zuccarini, unknowingly I suspect, entered a food fight, with cultural appropriation as the battleground. Andray Domise delved into the cultural appropriation of Caribbean cuisine in October. Domise writes, "…opening franchise locations downtown is nearly impossible, in part because of what might be called a "cultural obstacle": landlords who ask outright about the nationality of the food to be offered on the menu and the type of clientele the restaurant hopes to attract, then decline to offer a lease."
From the moment you enter Chubby's Jamaican, you have entered a restaurant concept, an experience built from the ground up from one idea, a casual dining Jamaican eatery. Absent from Chubby's façade is the red, green and gold, or the Jamaican flag. It has cool Caribbean colours of coral, carefully chosen lighting, palm tree murals (by local artist Komi Olaf) on one wall, reflected in the mirror of the opposite wall, creating the illusion of a window. The music is distinctly Jamaican but not cliché.
Chubby's Jamaican may be owned by Gusto 54 but the story and identity of Chubby's were developed by Angela Lawrence. You may be familiar with her food blog, Cook Like a Jamaican which she maintains alongside her mother. Lawrence meets me at my table, letting me know our time together will be short. I jump right into addressing the negative comments that have been swirling on Facebook. "I am disappointed, but I can't focus on what people think, when they don't know the work that went into this," she says. Lawrence points out that her mother came to the restaurant and enjoyed the meals. And it's mama's opinion that matters to her most.
What was the genesis of Chubby's Jamaican Kitchen? Lawrence says Chubby's Jamaican was born out of friendship and love for eating out. Zuccarini and Lawrence share a close friendship, one that eating out is a big part of. Together, they wanted to bring a Jamaican restaurant concept to Toronto they had only seen in New York and London. With a background in marketing, Angela had already been working at Gusto 54 overseeing brand culture.
"I poured three years of my life and passion into this project. I wanted to honour my mother and our food relationship with this restaurant and I wanted to ensure that everything came from a place of love and respect. Those were most important to me. The food here is grounded in traditional homestyle cooking with a few modern twists. It was important to me that you could come here and get your oxtail and rice and peas, as well as healthy and flavourful salad. Our Head Chef Donovan Campbell, this is his menu."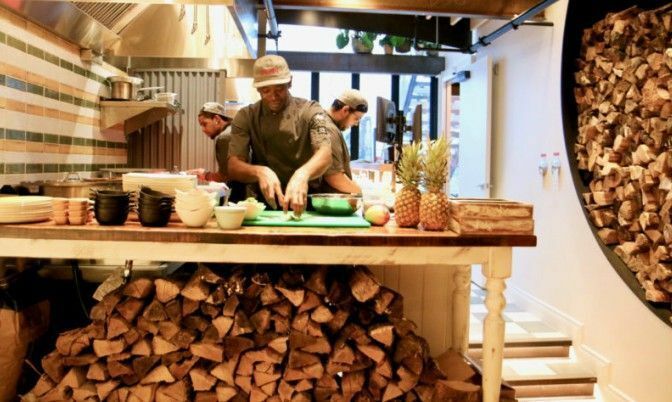 Head Chef Donovan Campbell
I admit that I was most intrigued by the salad options. So I was excited to order the watercress and papaya salad served with an avocado dressing. The sweetness of the papaya plays well against the peppery watercress greens. However, the salad could have benefitted from a bit more acid and the plating actually made the avocado dressing hard to identify.
But as I sit here, I have completely forgotten how cold I am. Chubby's vibe is comforting and easy to get swallowed up in.
Next, I am served the king of hand pies, the Jamaican patty, four to be exact: Tamarind Beef, Curried Turkey, Coconut Greens, and Curried Shrimp. My favourite flavour was the coconut greens. You simply can't go wrong with callaloo stewed down in some good coconut milk. Unfortunately, I don't think I would order these patties again because the crust fell short for me. It was doughy rather than flaky almost bread-like.
Everything changed with the arrival of the curried goat. It was moist. It was flavourful. It had the perfect amount of gravy. I asked one of the diners at the table to my left how she enjoyed the oxtail. She replied with an approving hum. We all know what humming means.
Chubby's pricing is mostly on par with any sit-down Jamaican restaurant in Toronto. The oxtail is $18, same price at Albert's. The curried goat is $17, the same price at Simone's.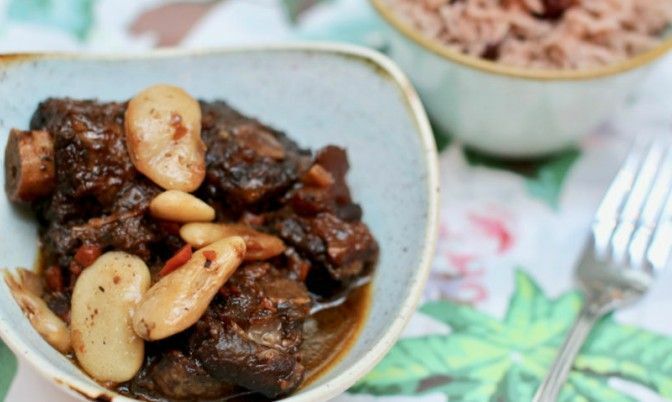 The jerk chicken was the only overpriced item on the menu. It was $14 for a ¼ chicken, which usually goes for $10. And while I appreciated the smoky flavour from the wood used while making the jerk chicken, it somehow managed to be dry and undercooked at the same time.
The Better than Sundae dessert was ambitious, possibly too ambitious. Too many sweet and distinct flavours (coconut, banana, guava) competing with each other.
As for the drinks, I highly recommend the Buffalo Soldier with sweet pineapple and subtle hints of nutmeg. It's a true fusion cocktail that features Bourbon rather than the traditional rum. Chubby's Jamaican cocktail menu might be one of the best I've seen in the city.
Here's the thing, if I wanted to really get down in some Jamaican food, I wouldn't go to Chubby's. But to hold a vibes with my friends with the option a decent meal, it's the place.
At Chubby's you can drink a red stripe or a cosmopolitan cocktail, have a side of jerk pork or a big plate of food and just chill.
There's something else that stood out about the service at Chubby's. The staff didn't use words like authentic or true, or claimed to be the best Jamaican anything. The Chubby's team is acutely aware of the pressure it's under to deliver a product and respect a culture simultaneously. I think they have gone to painstaking lengths to acknowledge and honour Jamaica.
Angela referenced honouring her mother more than once in our conversation and that kind of sincerity can't be manufactured. I agree with Zuccarini, there is no restaurant like Chubby's in Toronto. But is that really a bad thing?
As a young Jamaican chef who has fielded a few grenades of her own, I know that some people will never eat at Chubby's as a matter of principle. And I understand why.
We have no shortage of Jamaican restaurants in Toronto, that are indeed amazing at carrying on our traditional style of cooking.
But why can't Chubby's inspire a whole new generation of Caribbean and African chefs to unbox themselves, dare to be different and make their plates their flags?