As a second-generation Jamaican-Canadian child, his transition to Canada included more than just getting used to the cold winters. "I initially missed home," Waite says, remembering the move. "I was around 6 or 7 years old, had just started school in Jamaica, and then suddenly found myself in a brand new school in an entirely different country." Perhaps noting how traumatic the incident sounds, Waite cheerfully adds, "It all worked out fine."
He caught the acting bug in a high school drama class in Bramalea, though he still wasn't thinking about it as a serious career. His parents wouldn't have been too keen on that idea anyway. "Academic achievement was a huge thing for my parents," Waite mentions. "There was the usual child of immigrant's piece where I had to do well in school in order to do fun things on the side." It was only a few years later, after participating in the launch of an indie film and experiencing that from audition to premiere, that the thought of acting professionally became a legitimate possibility. I was curious to know how his parents took the news of his artistic interest. "We never really had a serious conversation about acting," continues Waite. "It would pop up organically in conversations on occasion." Waite insists, "It was never a situation where I had to seek permission." Nowadays, his parents definitely see acting as a viable career.
Waite started out in stage plays and recalls that time as some of his fondest memories. "I appreciated the opportunity to really explore my craft after sitting with a piece of work, and the camaraderie I experienced with my fellow actors," recalls Waite. He credits his lead role as lawyer Aaron Levinsky in the play ("Nuts" by Tom Topor) at Scarborough Village Theatre for cementing his confidence in his ability to act at a high enough level to make a profession out of it. "I was on stage for over 2 hours," confirms Waite, "which really reinforced my career choice." When asked about the difference between acting on television and film, versus acting on the stage, Waite replies, "Theatre allows you to live with a character and script for a longer time, but with tv and film, you might get a part today and be on set tomorrow; so you have to be prepared quicker." That being said, Waite doesn't see the differences as being negative, nor actually that different. "You're just exercising different parts of the same muscle," Waite continues. "Though theatre is live, there's a live aspect to being on television in terms of how your cast and crew react to your performance; so you get feedback from both audiences."
One of Romaine Waite's goals is to act in roles that both entertain and provoke conversations. While not exactly being confrontational in its politics, Frankie Drake Mysteries does employ a political subtlety in both its scripting and casting. The show portrays women in leading roles at a time in history when women weren't empowered, and employs recurring characters of colour with their own storylines. In the Season 2 episode "Emancipation Day" black historical figure Marcus Garvey hires the private investigators to find out who stole donations from a "coloured girls" orphanage. Yes, that Marcus Garvey. "Frankie Drake's female characters are not only in leading roles, but are also making contributions toward the greater good."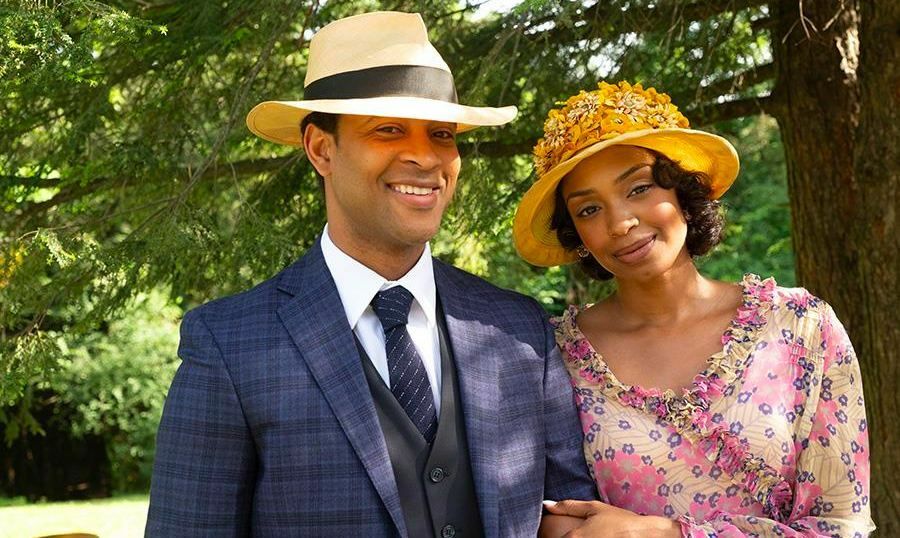 Romaine Waite as Bill Peters, Chantel Riley as Trudy Clarke in Frankie Drake Mysteries.
Waite doesn't feel like he's been denied any opportunity in the industry based on the colour of his skin. Still, with only a handful of minority-led TV series in Canada to date (Little Mosque on the Prairie, Da Kink in My Hair, Kim's Convenience), Waite recognizes there's definitely room for the industry to grow as it pertains to representation. It would be easy to look at the dearth of minority leads on Canadian television and be prepared to throw TV execs under the bus. Instead, Waite plays devil's advocate and attempts to frame the discussion from the corporate perspective. "When serving viewership in Canada," Waite begins, "there's a broad spectrum in terms of numbers, and numbers are important because the numbers dictate what goes on television." The "numbers" Waite is speaking of, are you and I. Simply put, community support dictates where the money goes. "There has to be support for our stories so TV executives can see the numbers and justify greenlighting them," Waite says. "So as much as we want to see these kinds of stories, we have to craft them in a way that is beneficial to everybody."
What about the lack of diversity behind the camera? Waite ties this back into how certain cultural groups are raised to steer clear of careers in the arts. "It's no fault of our parents," insists Waite, "but this is what has been ingrained in many of us and is reflected in artistic industries today; so a huge part of changing that is changing our perspective of what it means to work in the arts." Waite adds, "It's happening, but it will take a little more time for the demographics of the TV executives to change in Canada, whereas in the States, you have people like Tyler Perry and Ava DuVernay already calling the shots."
Aside from the next season of Frankie Drake Mysteries, Romaine Waite has upcoming work in the Hallmark series "Crossword Mysteries." If that's not enough, in Spring you can see him in a Lifetime film about prominent American gospel group the Clarke sisters in "The Clark Sisters: First Ladies of Gospel." Waite will play the husband of one of the sisters. Executive Produced by entertainment powerhouses Queen Latifah, Mary J. Blige and Missy Elliot, it's further proof that Romaine Waite's star is on the rise, and the sky's the limit.
Byron Armstrong is a writer living in Toronto who has been published online and in print, for both local and national publications. He writes essays, short stories, opinion pieces, and in-depth interviews, within the sphere of politics, art, design, business, and travel. His general musings can be found on Twitter as @ByronArmstrong6.