Covering Toronto's music scene for more than 20 years, Rudy Blair is a media icon in this city. His name has become synonymous with fun, cheeky interviews featuring the biggest celebrities in the business. But before he became a media star as 680 news' music and entertainment reporter, Rudy Blair was at a crossroads.
"I needed to figure out what I wanted to do. I was older. I was in radio," he said. "The thing I wanted to do originally was production."
Because of the flip of formats at 680 to all news, there were no real jobs in production. He recalls the day he watched a short lived late night talk show that would put him on the right track. He says the host was terrible and he remembers thinking, "I can do a better job than him."
He decided to help out doing something in entertainment and approached Gloria Martin, entertainment reporter and editor, who was at the time doing both traffic and entertainment.
"She was doing everything on her own," he said. Blair asked her about possibly helping out with some entertainment reporting. She agreed. She gave him a movie ticket and instructed him to return and tell her all about it, then she would write up the story and the voicer.
The next time she sent Blair out, it was to watch Damon Wayans and Adam Sandler in Bulletproof, this time Blair was to do both the write up and the voicer.
"It was probably the worst piece of crap voicer ever but we aired it," he said. "It was two in the morning on a weekend."
This was the beginning of Blair's career in entertainment reporting.
"I started doing entertainment but it was more community based entertainment. I didn't feel fulfilled with that," he said. "Anything Gloria wanted done, I did it."
Blair began to think of ways he could make himself stand out.
"I thought to myself, well, I like music and there are no music reporters. Gloria is doing the arts, theatre and TV. Why don't I maybe do music stuff," he said.
Blair started writing articles on local artists. He would contact record companies to interview their artists but he had a hard time getting anyone to respond. 680 is an all-news station and most of the record company executives didn't think it would be of any help for their artists' publicity.
But it would not be long before Blair's big break arrived. One day, an artist named Bob Carlisle who had a hit called Butterfly Kisses, was at the station.
"It was a hit Christian song that crossed over to pop," he said.
Little did Blair know that it would be the day that would change his life and career path.
It so happened that one of his bosses at the time, John Hinnen, and one of the music directors for CHFI Drew Keith, both encouraged Carlisle to sit down with Blair.
"They both said, 680 has a music reporter named Rudy Blair, why don't you do an interview with him," says Blair. "BMG was his record company and the guy who was the head of the company agreed."
Blair recalls the excitement he felt when approached about the interview. "I was excited because I am now talking to someone with a hit," he said.
"The interview went on for ten or fifteen minutes. Carlisle enjoyed the interview so much that he invited me to introduce him on stage at the Molson Canadian amphitheatre," he said.
When the interview aired on 680, the bosses at BMG were so impressed, they asked Blair to interview some of their new artists. The first round of 'new' artists happened to be Britney Spears, The Backstreet Boys, N'Sync, and Christina Aguilera. Once other record companies started hearing about Blair's interviews, they began asking him to interview their artists as well.
"That is how the music reporting stuff starting opening up to what it is today," he said.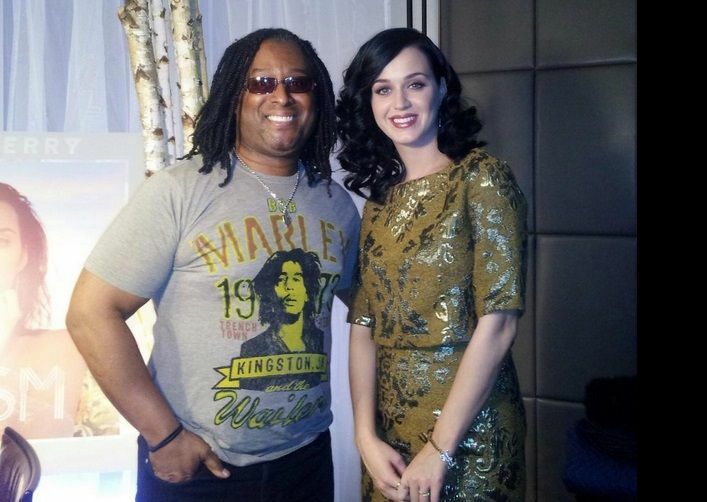 The cost of success
Blair says it is not been an easy road but it has been a fun road. It has been hard because now he is interviewing people who have sat down with some of the biggest media personalities in the world such as Oprah, David Letterman and Ellen.
"I have learned over the years to try to interview people in a way where they are comfortable," he said.
Blair, who is no stranger to hard work, says he has had to wait for six or seven hours to get a five minute interview. He has also been turned down for interviews because people just didn't understand what he did. He has done interviews at odd hours of the morning. He has stayed all night at the station putting his stuff together, slept on the floor, got up in the morning and started his shift again.
Blair says he has great family relationships but has given up a lot for his career and this business.
"I do it because I love what I do," he said. "I have had a blast the whole time. But I have sacrificed a lot. I am not married and I don't have kids."
But Blair has seen his hard work pay off. "I feel like I am much respected in the community," he said.
He's proud of the fact that he's been able to forge great relationships with artists such as Michael Bublé, Avril Lavigne, and Gordon Lightfoot. "When you have relationships with people who have been in the business for a long time, it is a really, really, really cool thing."
Blair says he has had to work extra hard to prove that he could interview the big stars and that the station 680 news is the best vehicle for people to learn artists' music and what they are about.
"We have been able to do it," he said. "It is a combination of me and 680 news working together. I have a job where millions of people get to hear what I do. I get to go to events like the Grammy's, the Juno's, and the MMVA's," he said. "I talk to some of the biggest celebrities and artists on the planet on a daily basis. I don't take any of it for granted."
Rudy Blair's work on 680 has also allowed him to expand into TV. He has a show on the Rogers channel called On the Mic with Rudy Blair. The second season premiered on October 28, 2014.
"Rogers has been fantastic; this opportunity has been great," he said. "My co-host Liz Enbridge is great to work with. I also got a new show producer and camera person who are both fantastic."
And the winner is...
As the music and entertainment reporter for 680 news, Blair has received several awards for his work, some of which include: over ten RTDNA awards and the Harry Jerome Award for Media.
He credits his ability to think outside the box.
"I always try to come up with ideas that maybe not a lot of people would consider and then I try to make it work so that it connects with people," he said.
Blair remembers doing a story that at first glance, had nothing to do with music. It was a story on the ice cream man.
"I just thought to myself that the one thing that stood out to me as a kid, during the summer was hearing the music played by the ice cream truck," he said. "I wanted to interview the ice cream man. I wanted people to know who this guy is and why he represents summer."
Blair interviewed an ice cream man, some people on the street and put the interview together.
"I saved it for the first day of summer," he said. "It got great responses." The story won him a RTNDA award for 'regional feature reporting'.
The 2009 RTNDA Edward R. Murrow Award Regional and National for 'best use of sound' for the "Rudy Blair-Media Idol" feature is another favourite for Blair. Once again, he thought outside the box.
He says Canadian Idol used to do a segment where the media would come out and perform. The winners of these performances would win money for the charities of their choice.
"I always did it and always lost," he said. "It just so happened that the last year they did it, they changed it up where the judges would no longer vote but the audience."
He says he went to Scott Metcalfe, News Director for 680 news, and let him know that he wanted to do something different. It would be a series of him getting singing lessons because he couldn't sing. Metcalfe agreed. Blair got a good friend of his, Brian Vollmer, lead singer of the 80s Canadian hard rock band Helix, to give him lessons.
"He teaches people to sing and he sings opera," he said.
Blair chronicled the lessons he got on the weekends with Vollmer leading to his performance and put them on the web. Blair won by a landslide and won a thousand dollars for charity. The best part he says is when he submitted the clips to the RTDNA awards and won for best use of sound.
"A lot of my awards are for things that people have not done before," he said.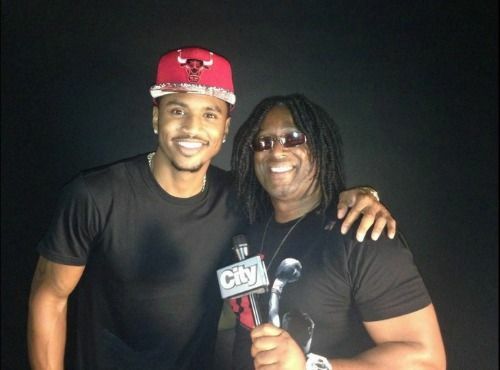 Experience in media as a black person
Blair says it can be rough sometimes. Most of the time, people who have not seen him on TV think he is a white person. They are surprised when they meet a black guy with braids.
"They look at me and say, I thought you were a little white guy!" he said. "What's a black person supposed to sound like?"
He remembers how people in the beginning tried to box him in; but, he has always pushed back.
"One of the things I did purposely when I started being on air was go to places I shouldn't be at. I was a judge for several years for Miss Italia Canada," he said. "So you can imagine, I am the only black guy in a room of a thousand Italians."
He says it was like where's Waldo? "Where's Rudy? Oh, you could see him. He's right there in the middle," he said.
He puts himself in such situations because he doesn't want to be type-cast.
"There have been people who have said that I should be doing the black thing," he said. "I have always said, what the hell is the black thing?"
Blair says he is proud of who he is. He is proud of where he comes from, but at the same time, he is going to do the stories he wants to do. He is not going to do a story because he is black and should be doing it.
"No. You do the stories because you have the knowledge to be able to do the stories the best," he said. "That is what it is about. It should have nothing to do with your skin colour."
Blair says that he personally feels as though he has to work twice as hard. There are a couple of reasons for that. Firstly, he considers himself a perfectionist and secondly, he is a workaholic.
"In the beginning, I felt as though I had to prove to myself that I am equal to anybody in this place," he said. "You are going to find, and I am not saying that there are people here who are like that, but you always think in the back of your head, is somebody looking down at you because of your skin colour?"
Blair wants to make it clear that his skin colour is not a disadvantage. "And if anybody believes that, they are full of crap," he said.
Black voices in media
"We don't have enough of them. That's the biggest problem," he said. Blair says this is because there are too many kids who are coming out of school who feel like if they are going into radio, then they have to work at a black station because they can't work anywhere else.
"You can work at any station you want to work at," he said. "I work at an old news station."
Blair says a lot of people of colour who come out of school want to focus on one area because they think that's the only way their voices are going to be heard.
"Your voice is going to be heard where ever you want it to, you just have to be willing to work hard at it," he said. "Don't think that because you can go work at a certain place, it will make your road easier."
"You go where the jobs are, and you show them that it doesn't matter if you are black, white, Asian, or blind, if you can do the job, you should be hired for the job," he said.
He wishes he could hear more people of colour on the radio. He says though it is getting better, he would love to see more on TV.
"When it comes to radio, I don't think we have enough," he said. "I sometimes feel like I am the only one around."
He points to Matt Galloway, the host of Metro Morning on CBC Radio One who he considers a pioneer with a great voice. JJ, the host of Flow 93.5 FM, Darren Osborne at CHFI as blacks who are doing a great job representing the community.
"Darren has a show on one of the biggest stations in the country," he said. "I think we need more of that. We need more of that for radio, definitely."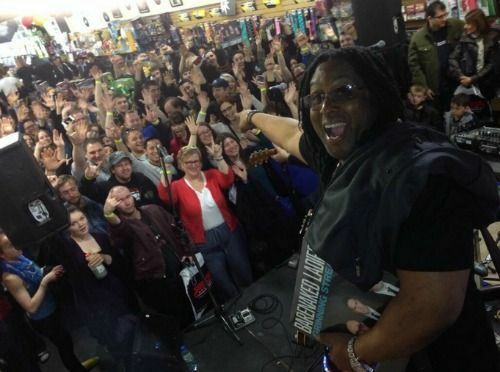 Opening the doors
"I hope I am showing people that there are no such things as walls," he said. "That you can go and do anything that you want."
He hopes that when his time in radio or this broadcast field is done, when he is gone that people will look at his career as one that opened the door for other blacks.
He is happy with what he has accomplished at this point in his life. He says all the awards he has received are special but the Harry Jerome Award he received, "Is extra special because it came from our community."
Blair has worked with the Harry Jerome Awards for many years but says to be able to finally stand up on that stage and get the award in his hands with his name on it, was a special night.
His advice to blacks entering media is to be professional. "Don't you go in there with an attitude of you owe me," he said. "Nobody owes you anything."
Some of the attitudes Blair us referring to: I don't want to work this shift, you should pay this much, I am not working overnights, I am not doing this or that, and by the way you are in my way and that job you have belongs to me.
"You've got to go into this business with an open mind and be prepared, meaning you could be the brightest star in the world but if you can't handle the pressures, you aren't going to make it in this business," he said. "You will deal with the worst shifts especially in the beginning."
He says you will have some people who may look down on you. You have to prove yourself. You have to keep your mouth shut and listen but when you do speak, speak with intelligence. Speak with an open mind, speak words that contribute and don't pull down.
"Reputation goes a long way. This is a small business believe it or not. It is a big country but it is a small business," he said. "You act like a jackass in Toronto, Vancouver is going to know you are a jackass. Guaranteed."
Always be professional even if the other person is not. "You be professional no matter what," he said. "Even if it means you have to walk away. You be professional at all times."
He says his career is important to him, and as much as he represents the station in his own way, it's bigger than that. "I represent my family. I represent my parents who worked extremely hard over the years to make sure that I can do this."
Blair wants people starting in the industry to know that they should be ready to work but don't make the one mistake he made.
"Have fun and have a life because that is so important," he said. "If you don't have a life, all this ain't worth it."