The launch was hosted by CP24's Patricia Jaggernauth who touched on how big an impact Afrobeats has on the Toronto music scene.
The atmosphere already filled with the excitement and celebration of African music and culture was charged by the 'welcome song' performed by Zahara in Xhosa.
This year, Music Fest puts a spotlight on female talent. Out of the 8 award winning artists set to take the stage today, 4 are female: Yemi Alade (Nigeria), winner of Best Female MTV Africa Music Awards 2015 & 2016, Sheebah Karungi (Uganda), winner of Video of the Year for MTV Music Awards 2016, Nsoki (Angola), winner of Best New Artist of the Year African Entertainment Award 2016, and last but not least, Zahara (South Africa), winner of Best Female South Africa Music Awards 2014.
Although the event marks the celebration of African music expanding the globe, women have yet to receive the respect and acknowledgment men in the industry get so freely.
Karungi says it is especially hard when you are a woman because no one takes you seriously. "It's not easy. You are going to work triple times as hard as men," she said.
"As a woman it is difficult, more difficult than for men. I believe that men tend to go further in the music industry." Nsoki said.
"We are judged on how we dress, how we should talk, when we should get married, and when we should give birth. I feel like people are very hard on us," Karungi added.
Alade agrees that she learnt a long time ago never to let people's opinions determine her next move. "Instead of asking me when I'm going to get married, ask me how far I am from my life's goals," she said.
Inspite of the obstacles present in a field often dominated by males, these female artists are paving the way for other women and making their mark in the African Music scene.
Nsoki acknowledges that although it is difficult, many women are pushing hard and working hard. They do this to create good music.
Zahara agrees.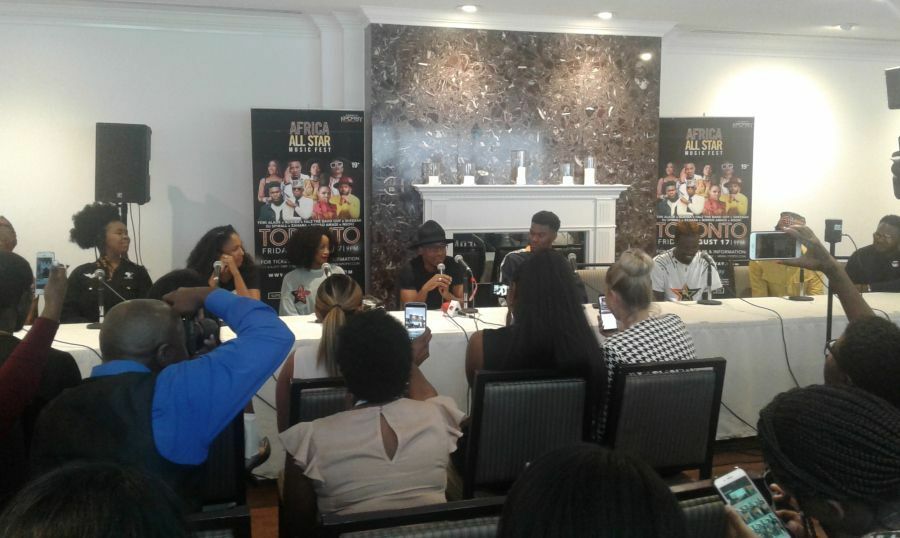 PHOTO CREDIT: AKUA GAMBRAH
"For women, it is very tough for us but don't take that to heart. Be yourself," she said.
Karungi says you need certain key characteristics to survive the industry.
"You have to understand that you need to have tough skin. You have to believe in yourself. You have to fight for yourself, and you have to know who you are and know your worth," she said.
All the female artists agree that you should stay true to yourself and your calling.
"Honestly I won't advise anyone to compromise against their values and beliefs all in the name of fitting in society. At the end of the day, we are all here for a different purpose so make sure you work on your purpose. Let people think whatever they are going to think as long as you know that you are not hurting anybody," Karungi said.
The live show begins tonight at 9.00pm inside premier entertainment hotspot, REBEL located at 11 Polson Street in Toronto.
Other artists to be featured live tonight include: Alikiba (Tanzania), Falz the Bah d Guy (Nigeria), DJ Spinall (Nigeria), and Nonso Amadi (Nigeria).
The event will open with Kellys Anthony and Slim Flex, Toronto's top Afrobeat artists including some of the cities best MCs and DJs.
Tickets are on sale at www.ticketgateway.com.