The concerns seem quite plausible when one considers the number of outdoor summer concerts and events attracting thousands of people to the GTA every year, versus the number of Black events that are cancelled, forced to move, or threatened with permit removal (causing cancellation) over the dreaded spectre of noise complaints.
Meanwhile, the "Air show" and the "Molson Indy" routinely cause the windows on my apartment to shake, and survivors of wartime trauma to duck for cover. Carnival Kingdom was to take place some 6 km away from residential neighbourhoods in an industrial area of the city of Vaughan.
The same Vaughan that hosted a weekend long "pizza party" cranked up by DJ Paulie D (of Jersey Shore fame), that attracted 20,000 people over 3 days, just a month prior to pulling the plug on SOS Fest. The City of Vaughan didn't care about hours of work, bucket loads of money SOS Fest organizers invested into their event, the loss of time and money to the vendors (food/merchandise) who attended, nor did they care about the ticket holders that came from all over the world to enjoy the event in their backwater industrial park. No. With less than 2 hours before the event, they claimed an unknown number of noise complaints, and a mysterious violation of permit rules, was enough to shut down the efforts of all these people to "fete" responsibly and just have a good time. I find it interesting that, while the City of Vaughan took responsibility for the decision, they swiftly distanced the mayor of Vaughan "Maurizio Bevilacqua" from having anything to do with the decision. Why is that so interesting? Well, a few days prior to Carnival Kingdom having it's permit revoked, the mayor of Vaughan tweeted the following…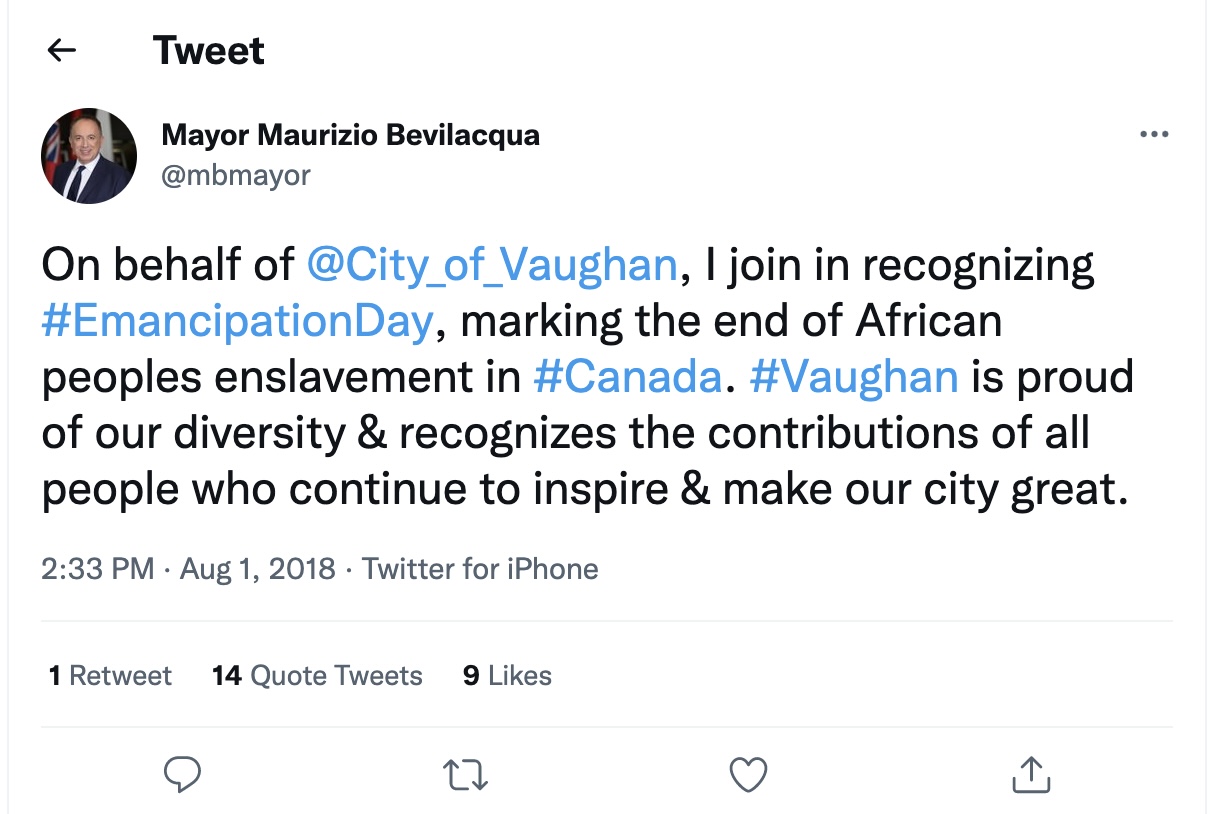 It does ring a little untrue at this point, doesn't it? Do the actions of the City of Vaughan match up to the principles of pride in diversity espoused in the mayor's statement? I don't think they do, nor apparently do many others from the Afro-Caribbean community who responded swiftly on Twitter.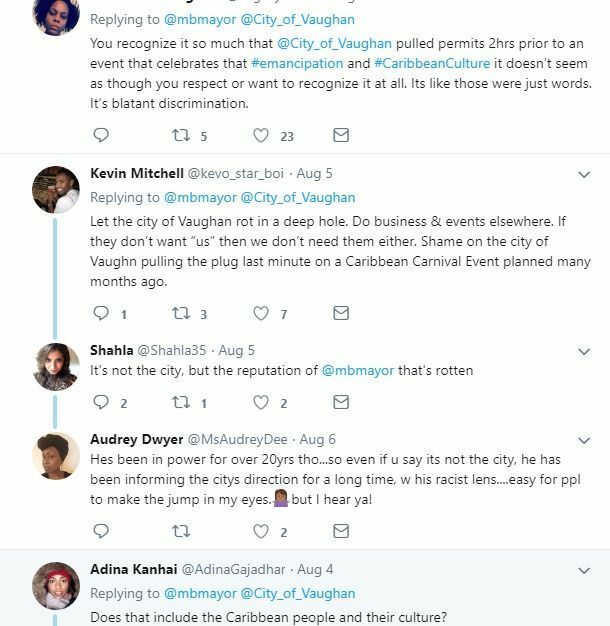 Maybe the reason they want to distance the mayor from this is because they don't want you to notice things about the mayor, or even the kind of people he associates with that might paint him as potentially having biases against other people.
For instance, Canadians with Italian citizenship are still legally allowed to vote in Italy's elections. Mario Cortellucci, a wealthy developer from Vaughan, ran to become a member of the Italian senate. Mr. Cortellucci was endorsed by Vaughan's mayor Maurizio Bevilacqua. This in and of itself is not a problem. However, Mr. Cortellucci ran under the banner of an extreme far right coalition party popular for their anti-Muslim, anti-Semitic, anti-LGBTQ and anti-immigrant stance in Italy. This is who the mayor of Vaughan endorses for political appointment while spitting out praises for diversity and his appreciation for Emancipation Day. Mr. Cortellucci is a big donor in Vaughan, donating 3 million dollars towards the Mario and Nick Cortellucci Hospice Palliative Care Centre of Excellence, and of course, the mayor was happy to invite him into Vaughan city hall to celebrate. I would also be remiss to mention the Cortellucci family are avid "Ford Nation" supporters, having made dozens of donations totaling over $10,000 to Doug Ford's campaign…and of course, like most potential racists, the mayor of Vaughan is a Ford supporter too.
All that aside, some people, myself included, are making the connection that the events we bring into the city and its surrounding areas are not being given the respect they deserve.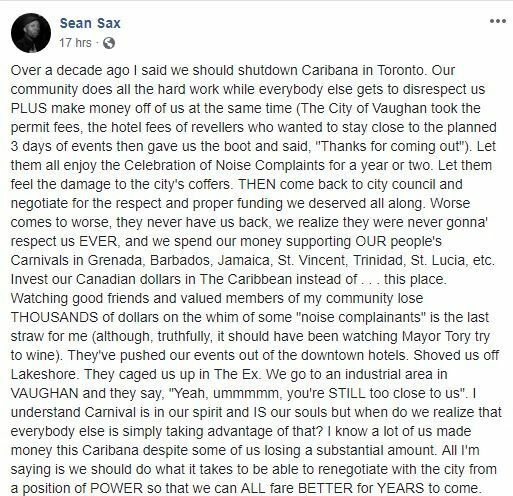 Another Black organized annual event, Afrofest, has had its share of difficulties when it comes to being treated the same as other events in the city. Traditionally held at Queen's Park for 23 years, it was unceremoniously booted out due to outgrowing the space. After that, Afrofest moved it's event to Woodbine park in the beaches. In 2016, Afrofest had originally had it's weekend event in Woodbine park, cut down to 1 day due 8 noise complaints the previous year (2015), a year in which the city had given Afrofest a noise exemption for the event. Organizers have argued Afrofest routinely uses the same sound company, sound equipment, and crew, utilized for other events in Woodbine park. In other words, Canada Day and Beaches Jazz festival concerts are using the same sound levels as Afrofest, without penalty, or I presume, complaint. Bestival, a 2 day British import music festival with loud live bands and DJs occuring in the same year (2016), suffered no such pressure. Afrofest, on average, attracts somewhere around 125,000 people every year. Due to pressure from many within the community who expressed outrage on social media, the decision to cut the 2 day festival down to 1 was shelved.
Caribana, a 400 million dollar annual economic boon for this city, is still in a position where it has to charge people at the gate to gain entry to their culture, and beg the city (and surrounding businesses) for chump change to keep it afloat. If Caribana could get 5% of that profit reinvested into it every year, Caribana would be able to run indefinitely on it's own steam. Yet every year, the image of Caribana is one of a beggar passing around a hat, after doing a spectacular dance for spare change on a street corner.
Everyone wants to see the jigaboos dance…no one wants to see us own the stage.