Allegory and subconscious knowledge of the way our current lived experience interweaves with our present amplify Shadrach's examination of how Black Loyalists were exploited by British colonial powers during the American Revolution and how that legacy of exploitation continues today. The Toronto art scene and the Canadian art world, in general, need Black artists like Shadrach to do this creative work and it's time that they recognize and compensate them for it.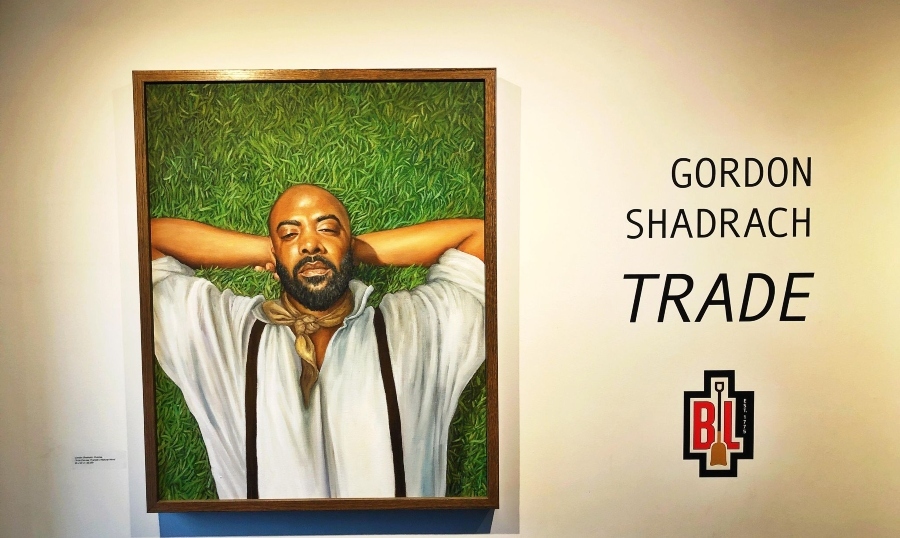 "Promise" Gordon Shadrach 2021
At the height of the American Revolution, thousands of enslaved Black folks were promised freedom by the British if they fought on the side of the crown against American colonists. Initially using them as labourers instead of soldiers out of fear of arming their former slaves, another prevailing fear that follows us into modern-day discussions about who has the right to arm themselves or "stand their ground", the British eventually conceded when their losses started piling up. Not exactly a spoiler at this point, but for those of you who fell asleep during this portion of history class, the Brits lost. However, the peace negotiations between America and Britain still allowed for enslaved people who escaped behind British lines before November 30, 1782, to be freed with restitution paid to their owners, with verification of who was and wasn't eligible being recorded in "The Book of Negroes."
Although these Blacks were "awarded" the freedom they should have been born with on Canada's east coast, they suffered years of economic hardship and denial of land and living essentials they had been promised. Shadrach's "Trade" draws parallels between the exploitative experiences of the Black loyalists and "the systems of power that utilizes Black bodies for personal and corporate gain, both historically and in present day." Black people have carried the tropes of physicality, both in terms of prowess and sexuality, since their enslavement. Both tropes have been repackaged and sold to willing audiences through the world of sports entertainment that fetishes and rewards athletic ability while punishing Black athletes who speak any truth to the system of White supremacy that affects them outside of it.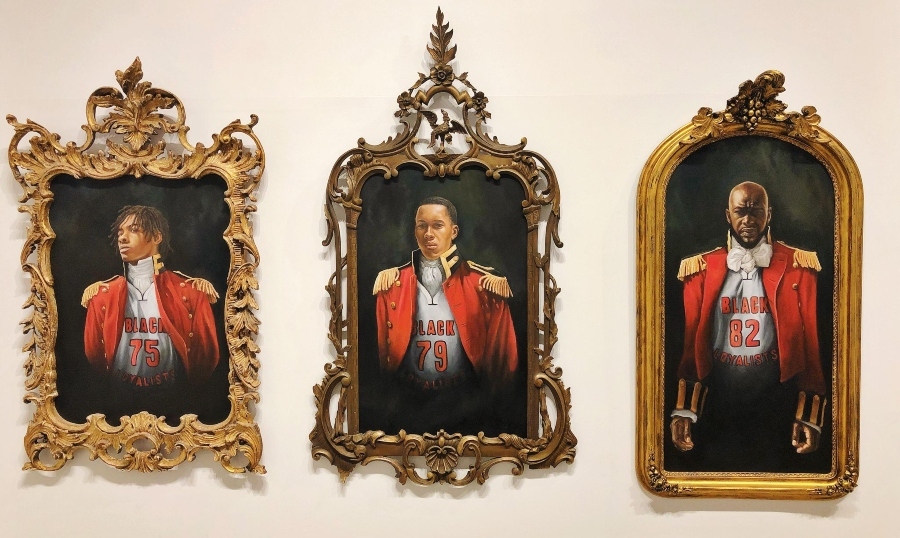 (l to r) "Draft Pick" "Recruit" and "Trade" Gordon Shadrach 2021
While Shadrach concentrates on making these points through the contrast of historic dress and modern-day basketball team jerseys, the relevance of the series is such that he could have as easily used the experiences of Black football players (ie. Esmaa Mohamoud's Untitled: Fields) who were deprived of NFL concussion cash settlements because of the controversial practice of race-norming; a practice in neuropsychology that tests Black patients' cognitive ability on a different curve than their White counterparts. With Simone Biles or Naomi Osaka as inspiration, he could have added an entire series of women in gymnastics uniforms and tennis gear sprinting, leaping and backflipping at the expense of their mental and physical health to appease the demands of White corporate masters.
From the Black Loyalists of yesteryear to the athlete of today, Shadrach is a Black artist who is examining racial power dynamics and how the legacy of Black labour and broken promises follows us even now. However, the work also speaks to the triumph of those Black labourers that came before us despite the obstacles placed before them and does so in a way that is equal parts visually stunning and inspiring.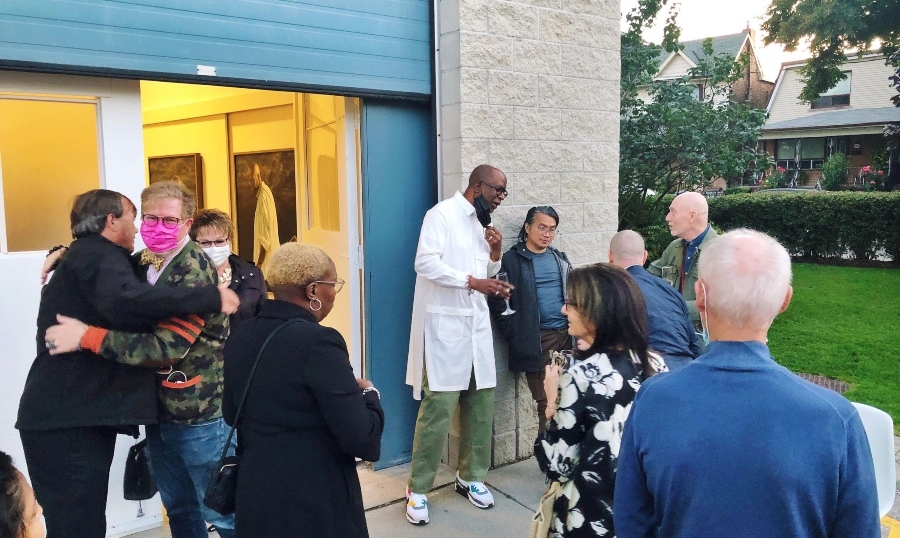 The Artist taking a well-deserved breather outside of the gallery during his opening night reception.
Gordon Shadrach: Trade (October 2 - October 23rd)
United Contemporary Gallery
1444 Dupont Street, Unit 22