As a trainer she noticed that while doing exercises such as squats, the waist of the leggings she wore would ride down and expose her body. She sought out to find leggings that fit her body type. Something comfortable and also showed off her personality and culture. That was like finding a needle in a haystack.
She took matters into her own hands and decided to take the print she loved and grew up with, Ghanaian Kente, and began making her own leggings. She had no intention of making it into a clothing line. But so many people began requesting and inquiring about her designs, that L.H.F Activewear was born.
It began in 2015 was launched in a big way in 2017. "The feedback and the response has been really great, and it's also been overwhelmingly positive," she added.
She says people have been more than happy to tell their friends and families about the clothing line, and it has gained popularity. A lot of people are wearing it.
So much so that to her amazement, customers are telling her what they would like to see from the line. No double a great sign for a new business owner.
"A lot of people have been saying it's about time. They are excited about it," she said.
The great news doesn't end there. The clothing line has also crossed racial and cultural lines.
"When I've done shows or even the feedback that I've been getting online from my website, I've noticed it's a very diverse group of people that are coming," she added.
Amoah has customers from Tanzania, China, Australia, Scotland, and Ireland. "It's been touching and reaching a lot of different people."
As for how she came up with the name, Amoah who is a Christian says the name was given to her by the Lord. L.H.F stands for Love, Health and Faith. She says L is for love towards the masses and to yourself. She encourages people to love themselves and the body that they are in. Even though, she adds, you don't feel comfortable walking out there, still love yourself no matter what. H is for health. Always work towards having great health. You want to live long so take care of your body. F is for faith. Believe in yourself. Believe you can reach your goals and make it in life. Have faith in yourself.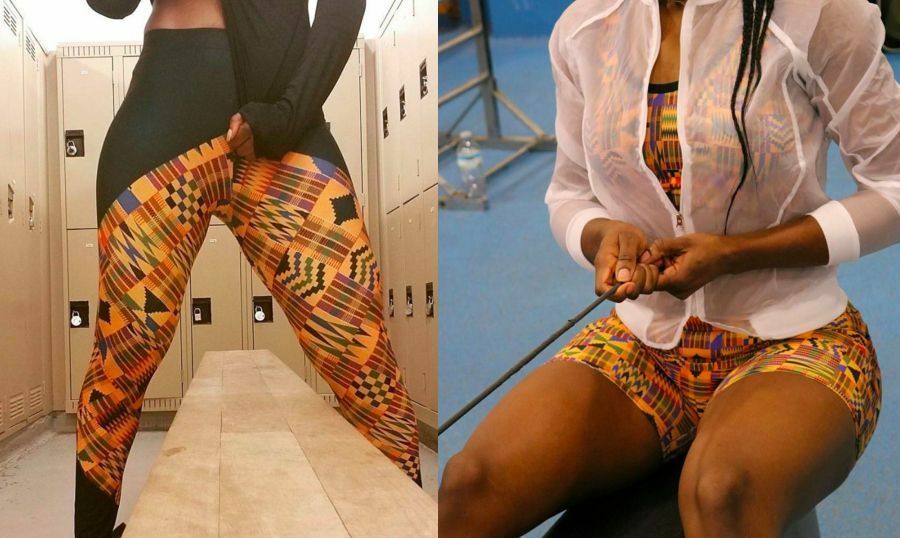 Amoah says she has had two major challenges. The first has been keeping up with the demand. "I'm always sold out of products." The second is finding good manufacturers within Canada that can bring her vision to life. It is challenging because the manufacturer takes a bit of time to produce the quantity she needs to replenish her inventory. "Due to the wait, the potential of lost sales slows the business," she added.
With such challenges it takes inspiration to keep going but it is her love for fashion, African print in particular, that keeps her going. Amoah's goal is to make L.H.F into a giant in the fitness and fashion apparel industry worldwide, with celebrity endorsements. But stresses the importance of keeping her line affordable.
Amoah says her two sisters are her strongest supporters. "They help when we are doing shows. They come up with ideas. They have been really, really helpful. Without them I don't think I would be able to do this all on my own or the way that I have been doing it."
As a designer, Amoah does not have a designer she looks up to because she does not want their designs to influence what she is doing."If there is an idea that I have, I'll draw it and put it down on paper. Start my process of getting it prepared and then I'll see if anyone else has done it. If it has been done, how can I make it different. How can I specialize it towards my brand," she said.
She adds she researches the competition to see what's in, what's working or not working, and what the demographic is asking for, and takes her customer's feedback and suggestions very seriously.
Amoah has this to say for those looking to venture into their own business, "Stay focused, have a plan, and write down everything." She says you will need a support system of those you can truly trust who are not afraid to tell you when something is good or bad. There will be sleepless nights, bombardment of ideas, but stay focused. Don't get off track. Definitely look to mentors who are established, and learn from their ups and downs. Take risks. Go out there and believe. "If it's meant to be, it will be."
L.H.F Activewear will be debuting it's new line of black and white Kente, yoga mats, water bottles, gym bags, new leggings, hoodies, shirts, tops, and a mens and kids line on December 8th at the Black Owned Market.
Visit: www.lhfactivewear.com
Lucy Oneka is a playwright and journalist. She has covered many stories for Toronto based newspapers such as the East York Observer, the Scarborough Observer, and the Toronto Observer. Lucy's other passion is music. She is a two time semi-finalist of the prestigious UK Song Writing Contest and recently released her own debut gospel album, "You Are Faithful".