"We hit it off right away, and from the get go we knew we wanted to do something together. Today we are here with Bailly Perfume Oils," Govindsamy said. Bailly is a vegan, cruelty-free line of coconut oil-based signature scents.
"We spent a lot of time together, and we both were very interested in starting our own businesses. And It just so happened that we thought we would be a great team," said Gough.
The idea turned into brainstorming. Govindsamy and Gough who had no idea of the journey ahead, underestimated how much work it would take to get to where they are now. "It was certainly more difficult than we thought initially when we decided to pursue a perfume. We said, 'oh how hard could it be?'" Gough chuckled. 'You just get bottles. You just get the fragrance. You just get packaging, and you are good to go.'"
It would take them a year and a half to launch Bailly. Altogether, it was two years before Bailly became a reality. The business was registered this spring and launched over the summer. However it was not an easy road. Because neither of them came from perfume industry backgrounds, they found it difficult to find a reliable quality vendor. "It's been a learning curve from the start," Govindsamy said.
Bailly perfume is made up of mostly essential oils. Govindsamy says although the perfume has synthetic ingredients, they don't include nasty chemicals found in parabens and fillers that are in a lot of mainstream perfumes out there. "Our perfume is coconut oil based and not alcohol," says Govindsamy. "Which means the perfume stays on longer but is more subtle when you walk into a room," Gough adds.
One of the things they learned was that not all synthetic ingredients are bad for you. Gough says, "Sometimes synthetic materials are made from petroleum and harmful chemicals as Edwina mentioned; but we've done a lot of research to make sure that any synthetics or any ingredients that are made in the labs are safe and clean."
Cost wise, Govindsamy says their perfumes are affordable. "It's definitely on par with other roll-on perfumes on the market, and there are really not many roll on perfume oils that are mainstream right now."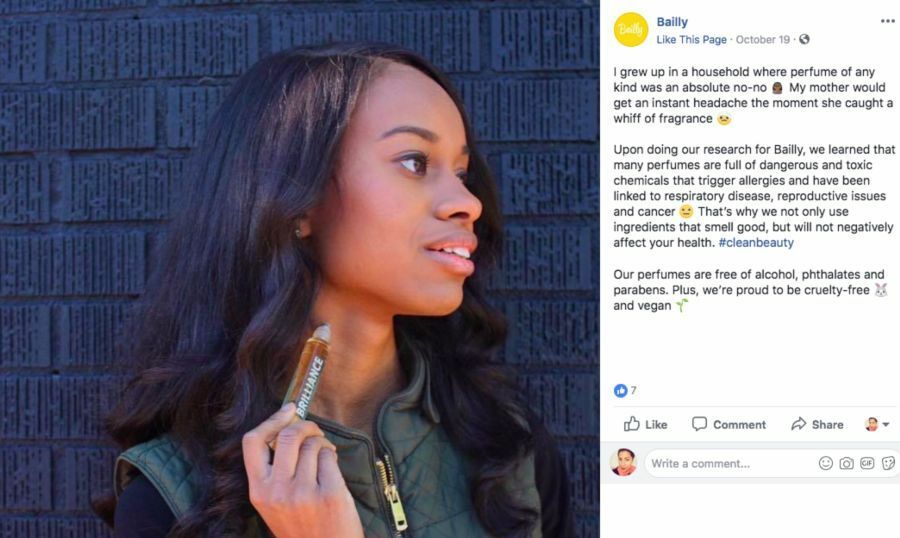 Gough adds the product has received tremendous support locally, and the support began even before the actual product was launched. "We had media outlets reaching out to us to cover the product and the brand as well." Gough and Govindsamy have been attending trade shows and local markets, and many people love the story behind the brand and the cause. "Most importantly they love the product so we couldn't be more happy with the support so far," Gough said.
Whenever you purchase Bailly perfume, you help young girls through 'The Girl Power Project'. When Govindsamy and Gough started the business, they both knew it had to be more than revenue generating. They both wanted to make an impact in some way. "We are young women ourselves so we thought we have to support young women in some way," Gough said.
So they researched various foundations both locally and internationally. They went through 20 foundations before stumbling upon 'The Girl Power Project' in Uganda. "We love the fact that they are community based, and that the organization hires community leaders to run the program. The entire community is involved. They learn about the rights of girls, they learn about human rights, and why it's important to support girls education," Gough said.
It does not exclude boys. Young boys and young men are also involved in the program. But it is mostly geared towards girls. There are 50 girls per community. They go through a two year program where they learn everything from financial literacy to self defence. They learn everything they need to stay in school.
"In our first year of business, we hope to donate 10,000 USD to the project," Gough said. With that, they will support 50 girls through the program for two years. They hope the amount increases in five years. Though they are currently focusing on perfumes alone, Govindsamy says, "you never know what the future holds."
As for how they came up with the name, it took lot of work. Govindsamy says, "Obviously it's very difficult to connect to one name, so we decided to look at things that kind of embodied what we wanted to do, which is create an impact." They thought a good metaphor for this would be an impact crater. "So Bailly is actually the name of a large impact crater near the moon," Govindsamy said. Gough adds Bailly is more than just a perfume company. "I think yes we have a great product that is less likely to cause allergic reactions, but for us Bailly is about supporting young women."
"I think at the end of the day, our very long term goal and long term vision for the company beyond the perfume, is to be an inspiration for our generation particularly young women of colour, and for them to be role models especially those that are entrepreneurial," Gough said.
Govindsamy says those who want to venture into the entrepreneur path should understand that it is not a linear journey. She feels a lot of people get really scared about failure. But emphasizes that you are going to have challenges. You are going to have obstacles that are thrown your way, that you just can't anticipate. And says you just really need to go into entrepreneurship and starting your own business with an open mind. She adds, "Take any, I guess, obstacle that comes your way as an opportunity to learn."
Govindsamy says the ups of starting a business is the reward you get. "I think after you hit the big milestone, it's quite an accomplishment. It feels really good." The down side she says is the fact that the "to do" list never ends. "It's really never ending, and like I said before, because we are still new to the industry, we are constantly learning. We are forever moving forward and learning. So it's hard to really take in those moments and celebrate them."
Gough agrees. The highlight of the journey she admits, is getting to have the final product in your hand. Gough says, "It was quite an accomplishment because after a year and a half of going through many different supplies, smelling hundreds of samples, dealing with the issues with labels, when you finally have the product in your hand, it feels like quite the accomplishment. Finally launching your website, that's another big milestone. But as Edwina mentioned there are so many little small steps before you get there." Gough says though things may go wrong at every turn, "it pays off at the end."
Upcoming events include:
Maritime Natural Hair & Beauty Show
Power of the Purse Conference
Queenpins Fall Fundraiser
Christmas At The Forum
Cover photo by: David Divine Photography
Lucy Oneka is a playwright and journalist. She has covered many stories for Toronto based newspapers such as the East York Observer, the Scarborough Observer, and the Toronto Observer. Lucy's other passion is music. She is a two time semi-finalist of the prestigious UK Song Writing Contest and recently released her own debut gospel album, "You Are Faithful".