WHO: Anne Cole Lowe, Fashion Designer
AGAINST THE ODDS: Ms. Lowe was born in Clayton, Alabama in 1898 during the Jim Crow era. With sewing skills gained from her mother and grandmother, Lowe went on to become the go-to dress makers for high society members.
Beyond ambitious with her home-grown talent, she left Alabama in 1916 with her son, settling in New York, where she enrolled at S.T. Taylor Design School. After graduating, she moved to Tampa Florida, where she quickly gained success by dressing the upper-class women from her very first dress salon named 'Annie Cohen'-the surname coming from the first of two husbands.
Having saved around $20,000, Lowe returned to New York in 1928, where she worked for other fashion houses including Henri Bendel, Chez Sonia, Neiman Marcus and Saks Fifth Avenue for some time. By 1950, she opened her Madison Avenue dress salon where her regal dresses were praised by members of the Social Register at the time. That same year, the New York Times featured Lowe and called her out as an expert in the field "who has been turning out impeccably dressed debutants for twenty years and charges up to $500 for her custom-made evening stunners."
By 1960, she had closed her shop due to financial reasons. Yet as proof her determination and resilience, she reopened her salon in 1964 with a new title, 'Anne Lowe Originals', where she worked until she retired in 1972. Noted by the Saturday Evening Post as "society's best kept secret", Lowe continued to create timeless and elegant gowns for the upper crusts of the society until her death at age 82 in 1981.
HISTORICAL MOMENT
After designing debut gowns for Jackie Kennedy and her sister at their mother's request, Lowe was commissioned in 1953 to design the future First Lady's wedding gown and the dresses for her bridal attendants for her wedding to John F. Kennedy. The dress, which entailed fifty yards of ivory silk taffeta with interwoven bands of tucking forming the bodice and similar tucking in large circular designs swept around the full skirt.
Despite the wedding being one of the most high profile events of the time, Lowe did not receive the public credit she deserved. While most newspapers covered the event in detail, Lowe only received mention from the Washington Post where fashion editor Nine Hyde wrote, "…the dress was designed by a Negro, Ann Lowe."
NOTABLE WORKS
Jackie Kennedy Wedding Gown: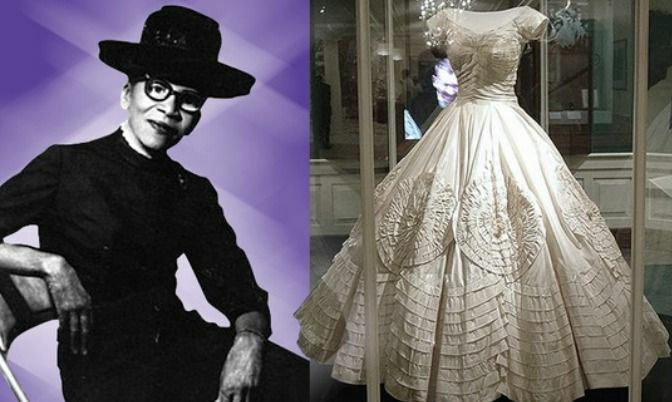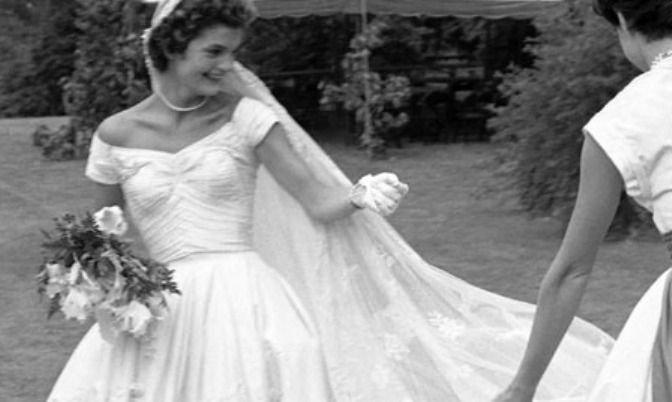 Vanity Fair Feature:
Jacqueline's stepsister Nina in a 1955 fashion editorial in Vogue wearing an Ann Lowe debut dress. This is one of the few times Ms. Lowe publicly received credit for her work.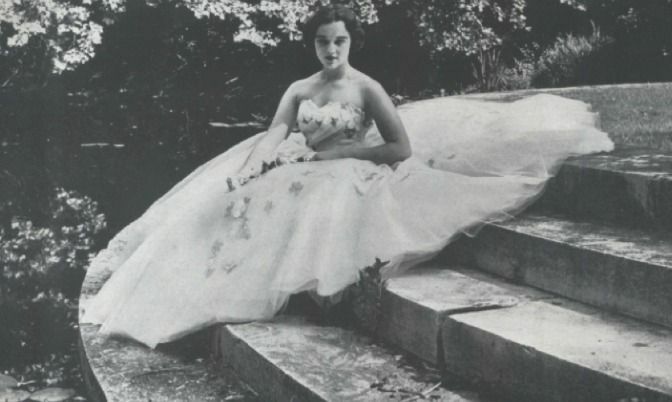 The Oscar Dress:
"I feel so happy when I am making clothes," she explained in the Oakland Tribune interview, "that I could just jump up and down with joy." Note the caption not giving credit to Lowe as the designer.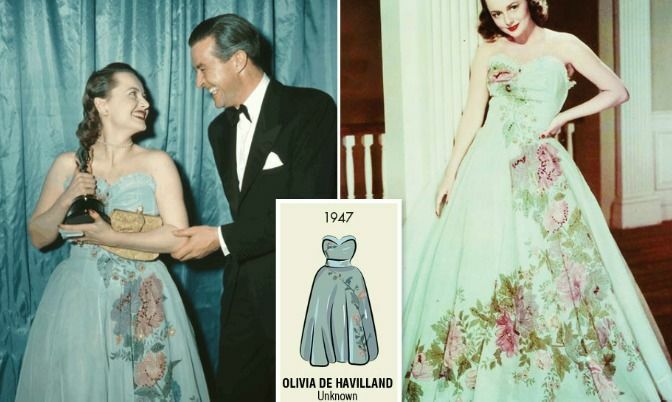 Throughout her career, Lowe continued to attract wealthy clients some of whom reportedly cheated her or talked her down from those high prices. One of her dresses would sell today for at least $4,000. But after paying her staff, most times Lowe wouldn't make a profit. She later admitted that at the height of her career, she was pretty much penniless. Five of Ann Lowe's designs are held at the Costume Institute at the Metropolitan Museum of Art.