This year's show has grown significantly, taking place at the Royal Ontario Museum (ROM) with 5 days of fashion showcases, awards, live entertainment, and workshops.
The showcases starred models from all over Canada including the winner of The Face of AFWT 2017, Zubeida Shirwa. These models had the formidable task of bringing movement to the elaborate African inspired fashions along the ivory runway at the ROM. Not only was the fashion African inspired but all models were decorated in South Sudanese cosmetic line, Neveen Dominic Cosmetics.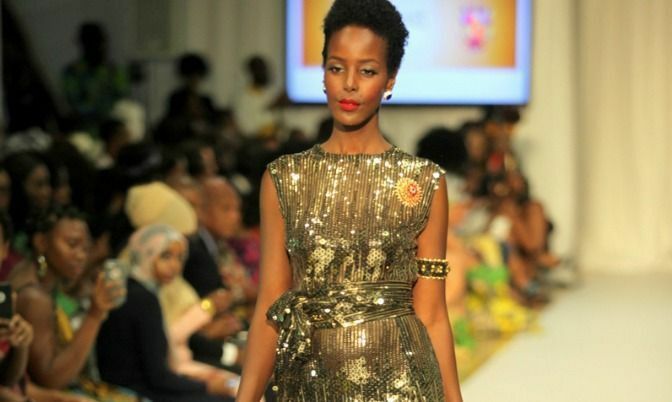 Zubeida Shirwa (Photo by Roy Virtue)
Hosted by PR Diva Communications' Erika Enyolu, the lively event began with the Student Design Competition. This competition gives young designers an opportunity to show their skills amongst peers and supports their ongoing development. This year's winner was Sadi Johnson's risqué and bold Phresh Empire designs, taking home a new Janome Sewing machine and numerous accolades.
Day 2 we saw high fashion showcases featuring modern co-ord Ankara print sets by Precious Threads by Abiola, ebony leather detailing on canary and grey fabric by Ladies and Menswear Designer of the Year, Kyle Gervacy, and blue lamè mermaid silhouettes by Akonua Kouture.
Day 3 introduced a range of classic threads from the Ntmo print and chiffon kaftans with Swarovski embroidery from The Wifey's Collection to the impeccably tailored heritage collection with Ankara vests from menswear designer Fari Hara.
2013 Student Design Competition winner Zna.k Designs' African print patterned piping on lavish white fabric with tulle accessories was a show stopper on Day 4, along with Accessory Designer of the Year Kwesiya's wax tops and Ankara pants with elaborately pleated trains. Ofuure's modern crimson Ankara gowns with black lace detailing and mesh overlays opened The African Fashion Industry Awards on Day 4 featuring winners such as Jidenna for Fashion Icon Award, Henry SO Photography for AFWT Contribution Award, and The AfroFusionSpot for Fashion Blogger of the year, to name a few. The King of Couture, Adebayo Jones closed the show with superbly detailed gowns and dresses with monochromatic sequins and embroidery.
Stay tuned to ByBlacks.com for a feature profile with AFWT 2017 founder, Isaac Ansah, where he discusses the future of AFWT and the successes of this year's showcase.