This is your guide to hacking your way to the hottest makeup trends on the scene so you will be "baked", "halo-ed" and "strobed" to perfection!
 
#TRENDHACK #1: STROBING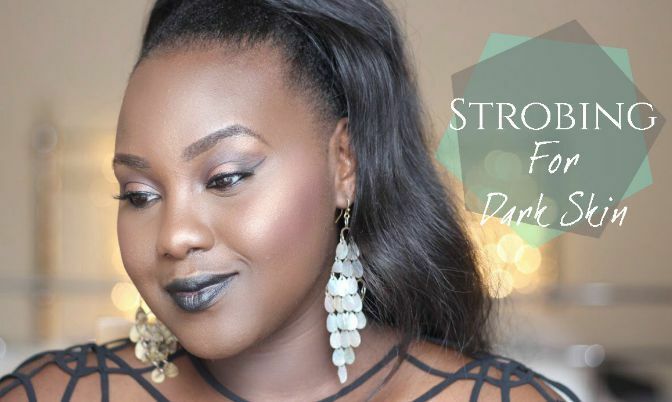 WHAT IS IT? Everything old is new again: Strobing is the new highlighting. This new #BeautyTrendHack involves using a highlighter, a product that brings light to your face. You apply the highlighter on strategic locations on your face and voila! You get this gorgeous, lit-from-within"strobed" look in a matter of seconds.
#STROBINGHACK: My all-time favourite highlighter for all brown skin tones has got to be the BECCA Shimmering Skin Perfector Pressed in Champagne Pop or in Topaz. This highlighting powder applies very smoothly with a powder brush and makes your skin looks glowy, not greasy, which is the key to the "perfect strobe"! Click here if you want more ideas of great highlighters for dark skin.
#TUTORIALHACK: These are my two favourite tutorials on strobing for brown skin because they will clearly show you exactly WHERE to apply your highlighter to get your "strobe" on:
1. Chanel Boateng's "STROBING! ON DARK SKIN" Tutorial (start at 3:06 for the actual strobing tutorial.)
2. Princess Ezeofor's "Strobing Tutorial | Jaclyn Hill Becca Cosmetics Champagne Pop Review | Dark Skin" Tutorial: (watch from 3:20 to 4:20 for the strobing application in hyperspeed. Start again at 5:15 when Princess "takes it up a notch" and strobes again by adding more highlighting product.)
 
#TRENDHACK #2: BAKING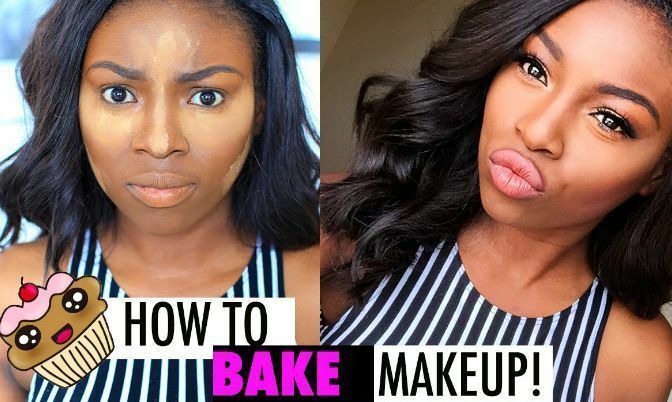 WHAT IS IT? Inspired by makeup application techniques used by drag queens to soften their features, "baking" your makeup is simply another fancy word for setting your makeup with a heckuvalot of setting powder. The idea is to apply an excessive amount of setting powder in strategic locations on your face and let the powder sit (or "bake") for 10-15 minutes before dusting off the excess powder with a brush. The baking process helps absorb extra oil from your foundation/concealer and highlight specific areas of your face. Baking is also a fantastic way to sweatproof your makeup to be selfie-ready.
#BAKINGHACK: Like many makeup artists and YouTube gurus, I'm a big fan of the Ben Nye Luxury Powders. They're affordable, they won't make your skin ashy and they soak up oil really well. The Bella Luxury Banana Powder is a popular option for olive to lighter brown skin tones, while the Mojave Luxury Powder in Dark Cocoa, Camel or Nutmeg are the best options to bake dark to deep skin tones to perfection.
#TUTORIALHACK: This is my all-time favourite tutorial on how to bake your makeup. The only one you need to watch!
1. Patricia Bright's "How to Bake Makeup!!! & Urban Decay Smokey Pallet (Darker Skin)" (start at 1:27 for the actual tutorial and 2:07 specifically for the baking technique. Patricia shows you exactly what and how to apply the powder to bake your makeup.
#TRENDHACK #3: HALO EYES


WHAT IS IT? Halo eyes look are similar to the popular smoky eye look, and can be appropriate for daytime and nighttime depending on the colours you are using. The idea behind halo eyes is to wear a pale colour all over your eyelid, and then to surround the pale colour with a darker colour on the inner and outer corner of the eyelids (the "halo").
#HALOEYESHACK: Your best bet to achieve this look is to use a "nude" or "naked" eye shadow makeup palette to get the best bang for your bucks. Nowadays, there are plenty of Brown-skin friendly palettes to choose from at every price point, with the best palettes being Maybelline Expert Wear The Nudes Eyeshadow Palette ($), The Balm NUDE 'Dude Nude Eye Shadow Palette ($$), Too Faced The Chocolate Bar Eye Palette ($$$) and Urban Decay Naked 1 Palette ($$$).
#TUTORIALHACK: Check out beauty subscription-box giant Birchbox and YouTube makeup artist Loneya Maiden's fun and easy-to-replicate on halo eyes tutorials.
1. Birchbox's "How To: Get Halo Eyes" Tutorial (softer halo eyes for daytime) (start at 0:10 for the tutorial)
2. Loneya Maiden's "| Gold & Black Halo Smokey Eye| Anastasia Beverly Hills Shadow Couture Palette" Tutorial (intense halo eyes for a night out on the town)
(0:14 to 0:20 is a good shot of how the finished look looks like. The tutorial starts at 4:23 and don't be scared by all the white ― though I definitely was!)
 
WHERE TO BUY
BEN NYE: Camera Ready Cosmetics and the CMU College of Makeup Art & Design Makeup Store in Toronto.
MAYBELLINE NEW YORK: Drugstores, Loblaws, Wal-Mart locations across Canada and walmart.ca.
THE BALM: thebalm.com, Amazon.ca, nailpolishcanada.com and select Rexall locations.
TOO FACED: Select Sephora locations and sephora.ca.
URBAN DECAY: Select Shoppers Drug Mart Beauty Boutiques, select Sephora locations and sephora.ca.